By Jing Zhu | Crescent City Capital Market Analyst Intern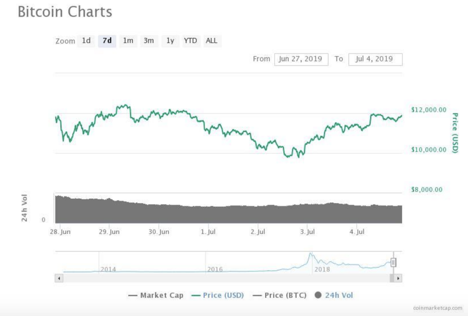 On July 2, Bitcoin price fell to $9,700. However, it has quickly recovered to $11,800 in the span of 48 hours. The strong momentum of the U.S. stock market, the returning appetite for high-risk trades, the development of Libra, and the performance of gold are just a few factors that could be fueling the momentum in Bitcoin's price. Since early 2018, Bitcoin price has similarly paralleled that of gold. The two assets often trade in tandem and both reached key thresholds in June, according to financial analyst Holger Zschaepitz of Welt. Bitcoin is currently trying to break the $12,000 resistance level.
Bitcoin's Correlation with Gold
Recently, the trade war with China has investors worried about a potentially shaky global economy. Many have consequently poured their money into assets like gold and Bitcoin, which are scarce and can be used as a hedge against economic downturn. Traditionally, gold was used as a store of value. Bitcoin is touted as "digital gold" and shares many of the same benefits as gold.
Gold and Bitcoin prices have closely mirrored each other. The two have been in "lockstep" ever since gold broke upward resistance last month. For example, gold prices increased from $1,269 to the current price of $1,423 per ounce. At the same time, Bitcoin rose from $3,150 to $13,800.
Since then, both have continued their rallies followed by consolidation periods. Because gold prices have started to climb, investors believe that Bitcoin may possibly follow suit.
Litecoin Outperforms Top Coins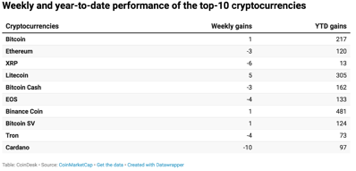 In anticipation of its halving event next month, Litecoin has performed very well. It is currently trading at $123 and has exhibited relatively consistent growth.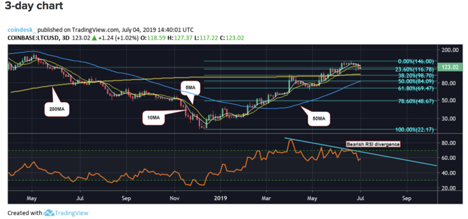 However, technical indicators do show a short-term price drop that may occur soon. The 5-candle MA and 10-candle MA have formed a bearish crossover. Additionally, the RSI is unable to get above 70, which indicates an impending bear market. However, this downtrend is most likely short term. Once the halving event occurs, prices should be right back up.
1. "Bitcoin Price Recovery Banishes Slump as Momentum Tests $12,000" by Joseph Young for CNN published 7/4/19
2.  "BTC and Gold Showing Correlated Moves, Will Bitcoin Price Rise from Here?" by Tony Spilotro for NewsBTC published 7/3/19
3.  "Litecoin Outperforms Top-10 Cryptos Ahead of August Reward Halving" by Okmar Godbole for Coindesk published 7/4/19