By Jing Zhu | Crescent City Capital Market Analyst Intern
Bitcoin Price Increases Weekly Gain to 30%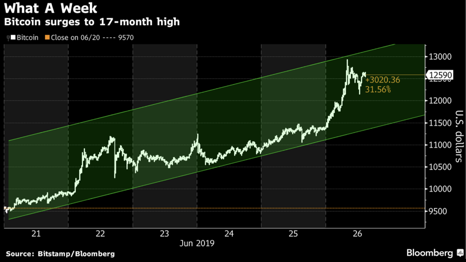 Early on Wednesday, Bitcoin price topped $12,900. It broke resistance around the $12,500 mark, but is currently hovering around that value. This momentum is impressive, especially considering that just last Friday, traders were waiting for Bitcoin to break $10,000. The price increase pushes the weekly gain to 30%. However, these accelerating gains can potentially be unfavorable. According to John Klovos, chief technical strategist at Macro Risk Advisors, a break above the $12,720 level "will allow for a complete retracement of the 2018 bear market". While current Bitcoin price just broke $13,000, it is unclear whether the price will drop according to normal market fluctuations or continuously plummet and enter a bear market. Jeff Dorman, the chief investment officer of Dorca, believes that "the asset is now overbought, and due for a fall, flashing red".
Litecoin: Overall Bullish Outlook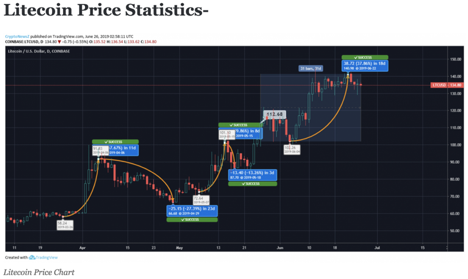 Since April, Litecoin price has increased in value. Currently, Litecoin has a 37.86% gain in the last 18 days. This altcoin attracts the attention of many investors because of its relative stability and growth without major shocks. Its market cap and value are 32.12% and 19.63% (respectively) higher than those last month. Litecoin appears to be undergoing a slight dip in price, but should make a comeback soon. Overall, it has a bullish medium-term outlook. In the immediate short-run, one should expect resistance around $139 and $142.
Ethereum Breaks Away From Bitcoin Price Influence
Ethereum has been experiencing gains, although at a sluggish rate compared to that of Bitcoin. Nonetheless, it is currently trading at $306 and building bullish momentum. The $400 level mark will likely be closely watched by traders. The RSI (relative strength index) is moving back into being overbought, which clearly indicates strong bullish movement. Furthermore, the MA (moving average) has been steadily increasing and moving at a high of +10.58.
Ripple's Compliance with Financial Action Task Force (FATF)
The FATF set forth new transparency requirements. To comply, Ripple recently announced its collaboration with Coinfirm, a startup that specializes in the regulation of digital assets. The FATF has established rules for entities that are considered digital operators.
"Bitcoin Surge Pushes Weekly Gain to 30%, and It's Only Wednesday" by Joanna Ossinger for Bloomberg published 6/26/19
"Bitcoin Surges Toward $14,000" by Mark DeCambre for WSJ published 6/26/19
"Litecoin Price Analysis: LTC Loses Value; a Bearish Short-Term is Likely" by Roxanne Williams for CryptoNewZ published 6/26/19
"Ethereum Market Update: ETH/USD Breaks Away from Bitcoin Pushing New 2019 Highs"by John Isige for FXStreet published 6/26/19
"Ripple XRP and its Ecosystem Making Steps Towards Compliance with FATF" by Ken Chigbo for FXStreet published 6/27/19