By Jing Zhu | Crescent City Capital Market Analyst Intern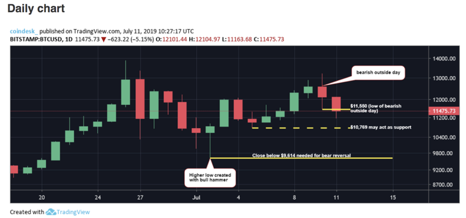 Just yesterday morning, Bitcoin price was around $13,200. Earlier this morning, it has dropped to a low of $11,164. Despite the price drop, the outlook remains bullish because the current price is holding up well above support at $9,615 (the higher low experienced on July 2). Bitcoin created a bearish outside day candlestick on Wednesday. This is considered to be an early sign of a potential bullish-to-bearish reversal. However, the bearish pattern is unlikely to be probable unless Bitcoin price closes below $11, 550 today. And even if it does close below $11,550, the bearish pattern will not be too much of a concern unless it dips below $9, 615.
Bitcoin Market Dominance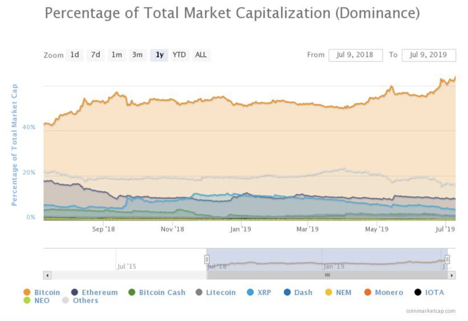 The current Bitcoin rally has caused dominance to spike. If it continues to increase, it could possibly grow into an "extended" 5th wave and dominate as much as 80% of the crypto market. This could be unfortunate news for altcoins, which could potentially capitulate and "bleed out". In general, Bitcoin is definitely more favored by investors (retail and institutional) and governments alike. It also is the most well-known and has the strongest branding, which make it the most popular coin on the crypto market. This, in additional to the rally, could also account for the significant dominance of Bitcoin.
Litecoin Price Down 14.5%
Charlie Lee, the co-founder of Litecoin, predicts trouble in August. While many believe that the halving event may drive up the price due to the limited supply, Charlie Lee warns that price may just as likely drop. He says, "The halvening is always kind of a shock to the system. When the mining rewards get cut in half, some miners will not be profitable, and they will shut off their machine. If a big percentage does that, then blocks will slow down for some time. For Litecoin it's three and a half days before the next change, so possibly like seven days of slower blocks, and then after that, the difficulty will readjust, and everything will be fine". In fact, price action supports this claim. Litecoin price has been down 14.5% in 24 hours and likely to lose more. It is currently testing the $100 mark. Any close below $90 could scare investors in selling.
Ripple Experiences "Hat Trick" of Bearish Days
Today, the price of Ripple dropped from $0.36 to $0.328. Price support is located near the $0.322 level. Bulls will need to overcome the $0.336 level of resistance. Price has dipped below the 20-day Bollinger band, which shows that Ripple is undervalued. This means that bullish correction might be on the way soon.
1."Bitcoin Price Drops $2k in 24 Hours but Bull View Still Intact" by Okmar Godbole for Coindesk published 7/11/19
2. "Crypto Analyst: Bitcoin (BTC) Dominance May Reach 80%, Altcoins Expected to Bleed" by Tony Spilotro for NewsBTC published 7/9/19
3."Litecoin Co-Founder Predicts Doom in August, LTC down 14.5%" by Dalmas Ngetich for NewsBTC published 7/11/19
4. "Ripple Price Analysis: XRP/USD Dips Below the 20-day Bollinger Band" by Rajarshi Mitra for FXStreet published 7/11/19