By Aidan Kalish | Crescent City Capital Market Analyst Intern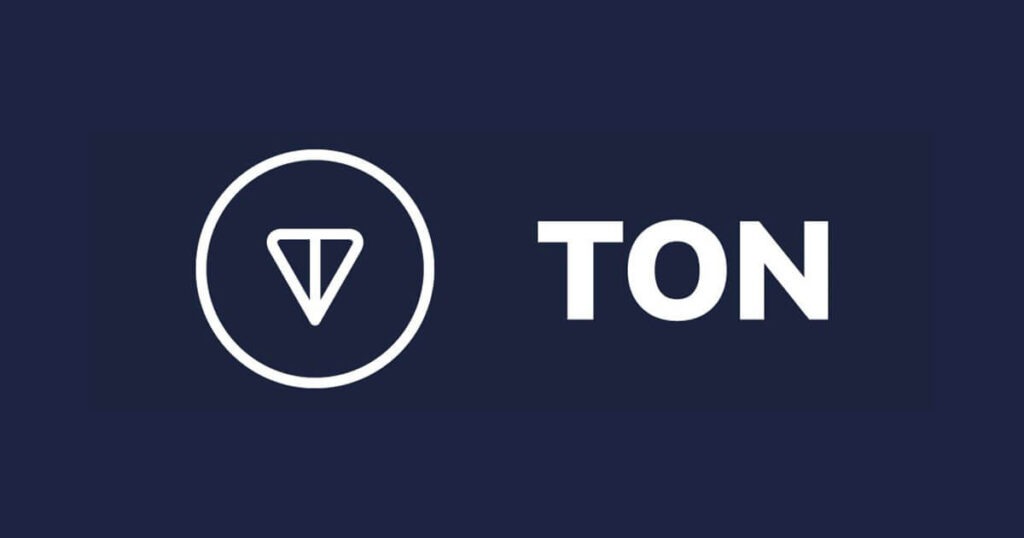 According to its whitepaper:
"The Open Network (TON) is a fast, secure and scalable blockchain and network project, capable of handling millions of transactions per second if necessary, and both user-friendly and service provider-friendly."
The community-led project aims to deliver a highly scalable blockchain network that could process transactions cheaper and faster than other networks, such as Ethereum. It also plans to develop the network into an ecosystem that can provide decentralized storage, an anonymous network, a domain name system (DNS), instant payments, and other services.
In 2018 Telegram, the encrypted messaging platform, released a whitepaper for the Telegram Open Network. Originally called Gram, the project was in active development until 2020. During its time in development, TON raised money through private sales of Gram tokens. In April 2018, Gram broke records for the second-largest token sale of all time, raising $1.7 billion. Telegram planned to launch Gram publicly under U.S. jurisdiction, but the development was banned by the US Securities and Exchange Commission (SEC) in March 2020. The SEC prohibited the issuance of Gram because the digital token sales would constitute securities offerings with no registration exemption available. Telegram gave up on the project in May 2020, and two of its developers took over the development of TON through an open-source community called Newton. Within a year, the community voted to launch on mainnet and renamed the Newton community as The Open Network (TON) Foundation.
The TON ecosystem was developed to handle the needs of millions of users making everyday transactions. Unlike Bitcoin and Ethereum, which are primarily used by investors, TON focuses on catering to the typical consumer. It's designed to be integrated into an easy to use app, allowing users to quickly buy, send, and store coins. One of the biggest advantages of TON is its flexible architecture. The Open Network was designed to be incredibly efficient and scalable and boasts ultra-fast transactions due to its cross-shard interactions. By supporting dynamic sharding and workchains, TON can successfully validate and process millions of transactions per second. In other words, TON's flexible architecture lets it grow continuously without any loss of performance.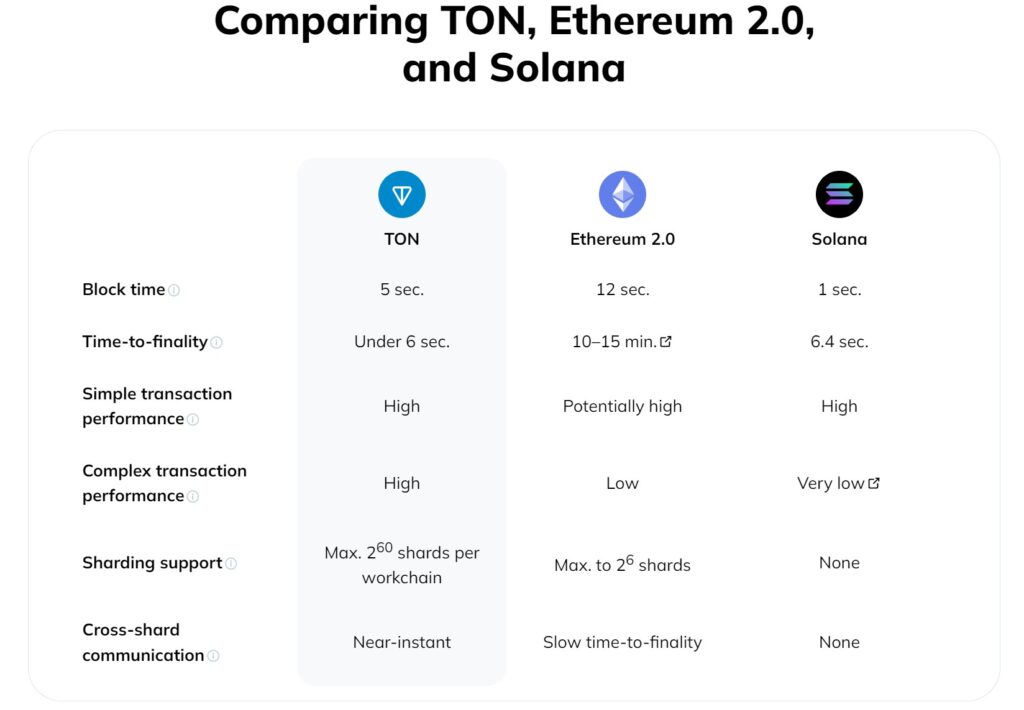 The utility token for this ecosystem is Toncoin (TON), which is used to facilitate transactions as rewards for staking and validating on the network. The blockchain is based on the proof-of-stake (PoS) protocol and validators are required to stake their tokens in order to verify user transactions on the network. Nominators are also essential to the efficient running of the blockchain. Toncoin holders can become nominators by lending their assets to validators to be staked. Toncoin earned by the validator is distributed to those that lent their assets to the validator. According to the official Toncoin website:
"As the TON ecosystem expands, Toncoin's impact on the new economy and Web3 will become more prominent."
Some of the use cases for TON include:
Commission payment for processing on-chain transactions with smart contracts
Capital lent out to nominators in exchange for a share of their rewards
Payments for services provided by apps built on the platform
Cross-chain transaction fees
On-chain governance programs
Payments for blockchain-based DNS
Payments for creating new workchains and extra currencies
Used for validators' stakes which are required to maintain the blockchain
The TON Foundation recently launched the latest products in the TON ecosystem, TON Sites and TON Proxy. This allows anyone who wished to be able to launch a TON Site, a web server that is available on the TON network. TON Sites works with TON DNS to remove the need for centralized domain name registries. Domain names can no longer be blocked or taken away arbitrarily. With TON DNS, a symbolic gesture of an annual micropayment of less than 0.0001 TON is all that is required to confirm domain ownership. TON Sites removes the necessity to create new passwords for every website. Users can sign into TON Sites with a TON-based cryptocurrency wallet that authenticates the user's identity. TON Proxy enables users to access the TON blockchain using decentralized VPNs and TOR-like networks. This allows users to avoid censorship and easily access DApps.
At the time of writing, TON has a market cap of $2.3 billion and a fully diluted market cap of $9.4 billion, making it the 30th largest cryptocurrency. When TON started trading on 8/26/21 it was valued at $0.51, it rose to its all-time high on 11/12/21 at $4.50. TON began 2022 trading at $3.79 and has fallen to a current value of $1.89.
In the future, the TON Foundation plans on introducing Bitcoin and Ethereum Virtual Machine (EVM) workchains to the network. The TON Foundation is also looking to implement utility for TON to be used for payments for TON Proxy and TON Storage which will be implemented in the near future. TON Storage provides a user interface through which anyone can upload a file and store it in the TON blockchain. There are two types of files:
Public – unencrypted file: TON Storage stores the file on the blockchain and can generate a public shareable link to download the file.
Encrypted – private file: TON Storage will encrypt the file using the wallet's private key when uploading. The file will be stored on the blockchain and linked by a smart contract to the owner's wallet. This is a very secure way to store data since no one except the owner of the wallet will be able to decrypt and read the file.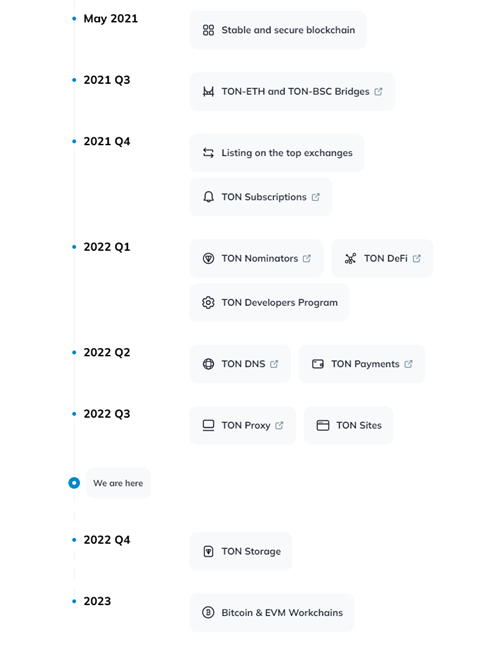 Recently, Telegram announced that the messaging platform is preparing to launch its TON-based "Telegram Auction Platform" where users will be able to buy and sell their usernames in the messenger. All usernames are represented as NFTs on TON, they can be stored in crypto wallets and put up for auction on any NFT marketplace.
Toncoin is still a relatively young project that has already experienced a rollercoaster of high and low moments. Despite the setback, Toncoin has rebuilt itself, segmented itself as one of the largest cryptocurrencies currently, and has a plan to launch more platforms and features. It is important to note that while Toncoin has become a large token there is still only a small number of users using the blockchain, begging the question of how large of a userbase can the network reasonably reach. It is also important to note that past performance is not a guarantee of future returns so any potential investor should conduct their own due diligence on this young project to help decide for themselves if the TON is worth investment.
Disclaimer: Please note that the contents of this article are not financial or investing advice. The information provided in this article is the author's opinion only and should not be considered as offering trading or investing recommendations. Please conduct your own due diligence before making any investment decisions.
References:
https://coinmarketcap.com/currencies/toncoin/
https://ton.org/whitepaper.pdf