By Aidan Kalish | Crescent City Capital Market Analyst Intern

Theta Network is a blockchain powered peer-to-peer video distribution protocol intending to be the solution to problems facing the traditional video-streaming sector. While most centralized video delivery platforms face intermittent bottlenecks within content-delivery pipelines, Theta's video-streaming services rely on a distributed network of users who voluntarily contribute their spare bandwidth and computing resources to run the Theta platform in exchange for Theta Fuel (TFUEL) coin rewards. Theta allows video and media platforms to increase revenues and decrease content delivery costs while rewarding end-users for sharing storage or bandwidth on any personal device.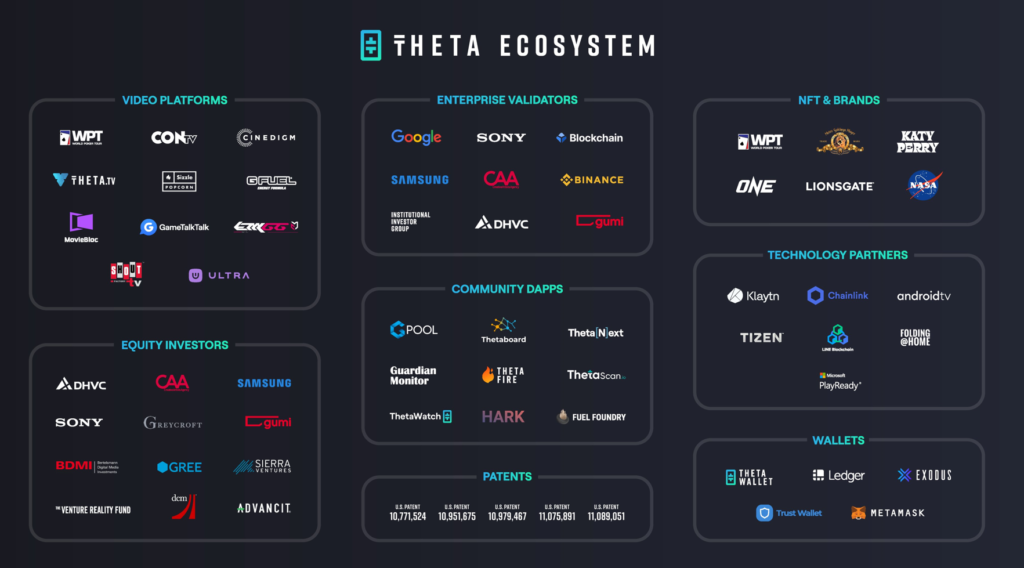 Theta Network initially launched as an ERC-20 token but became a standalone project with the unveiling of its own mainnet blockchain in March 2019. Despite this Theta remains ERC-20 compatible, meaning that the blockchain has access to and can leverage Ethereum's user base and network benefits. Theta Network runs on a modified Proof-of-Stake (PoS) mechanism known as Multi-Level Byzantine Fault Tolerance (BFT). BFT utilizes a small subset of nodes to speed up approvals and is therefore faster and more resource-efficient than traditional Proof-of-Work (PoW) networks. A smaller subset of 10-20 nodes, called the "Validator Committee" gives the initial approval of a transaction before passing it on to the "Guardian Pool" — a much larger group of nodes responsible for fully validating transactions and adding them to Theta's blockchain ledger. This design helps achieve a healthy balance between transaction throughput, consistency, and decentralization.
The data-storage and delivery capabilities of Theta Network are enabled through three core features:
An off-chain pool for micropayments helps streamline the network's operations. This pool allows any user to withdraw using off-chain transactions. The end result is that more node processing power is freed up for the network's core data storage, transcription, and delivery purposes.
The Theta Token Minter allows any user to create new TNT-20 tokens on the blockchain with no smart contract experience needed. TNT-20 tokens are ERC-20 like tokens existing exclusively on the Theta blockchain. Users can simply input the intended token name, ticker symbol, and supply parameters of their new token and the Token Minter will automatically mint the new tokens. Since these tokens can be created without technical expertise and configured to have either a permanently fixed or variable supply the door to a wide range of new applications and assets on the Theta blockchain is opened.
Another type of node is utilized called Edge Nodes, which are hosted by community members. Introduced in Theta's 2.0 mainnet launch, Edge Nodes allow users to relay video content as well as share excess bandwidth and processing power across the network without needing centralized servers. This Edge Node network forms the community-driven core of Theta's Edgecast platform, which lays the foundation for the network's peer-to-peer streaming dApps.
Theta Network relies on two coins to enable its operations, THETA and TFUEL. THETA handles the governance of the network. Users can stake THETA to serve as a Validator or Guardian Node in order to help produce new blocks and participate in the protocol's governance processes. The total supply of THETA coins is constant and fixed at 1 billion. TFUEL is used for gas costs and on-chain transactions. TFUEL coins can also be staked in Edge Nodes to upgrade them to Elite Edge Nodes, which will let users earn additional rewards. The initial supply of TFUEL was 5 billion at the time of Theta's mainnet launch and continually increases each year at a fixed rate of 5%. While both coins can be traded THETA is traded much more actively due to its governance capabilities.

Theta users can earn Theta coin rewards for sharing videos with other users via Edgecast, Theta Network's content transcription and distribution decentralized application (dApp). As a result, Theta has established a reliable, user-driven method of powering its growing ecosystem of entertainment-focused services most of which are focused on esports, music, TV, movies, education, and enterprise conferencing. Theta Network users enjoy full access to a global infrastructure focused on unrestricted and efficient video content and data delivery. Because Theta Network is powered by tens of thousands of nodes, it is more resistant to potential content-delivery disruptions and digital last-mile delivery issues.
At the time of writing THETA has a market cap of $998.5 million and a fully diluted market cap of $1.01 billion, making it the 50th largest cryptocurrency. THETA began 2022 trading at $4.82 and has since fallen to a current price of $0.99. TFUEL has a market cap of $250.3 million and a fully diluted market cap of $249.6 million. The coin entered 2022 trading at $0.196 and has a current value of $0.047.
While Theta is currently focused on video-on-demand services, the long-term vision for the Theta Network is to serve as a decentralized, end-to-end protocol for processing and delivering all types of data, including operating systems, app updates, and other forms of web content. The next upgrade to the blockchain will occur on December 1st, 2022, with the Theta mainnet 4.0 upgrade. This introduces the Metachain, allowing users to create, operate and manage their own subchains. The process is permissionless, meaning that ThetaLabs, the company behind the network, will not be involved in the monitoring or approval of subchains. These advancements to the Theta Network will support cross-chain asset transfers between subchains and the main chain as well as to other Layer 1 networks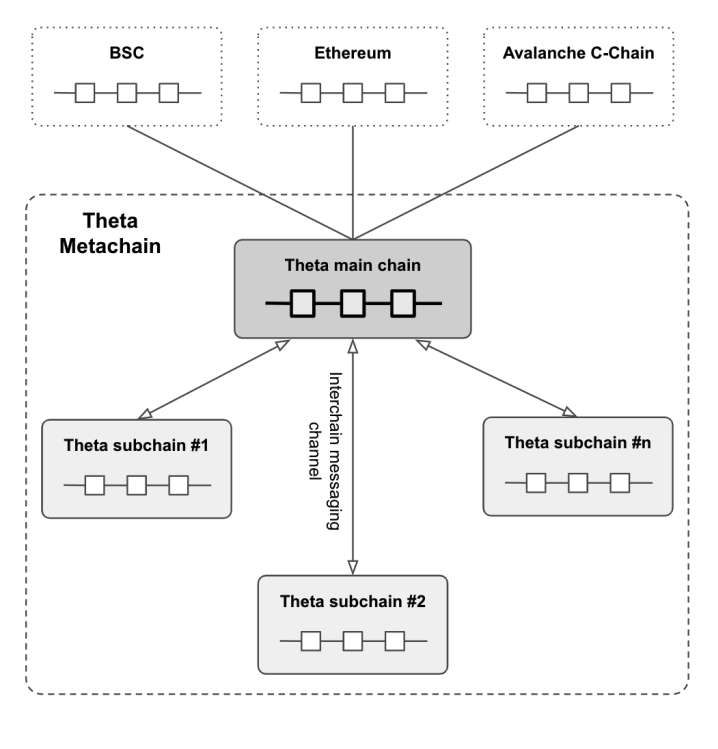 Communication between subchains will be dependent on the main chain through interchain messaging channels (IMC). For simplicity, subchains are unable to communicate (send transactions) directly. Rather, subchains must use the main chain as a bridge, so at most there are two transactions to move assets from one subchain to another. Subchains will utilize the two token structure (fee token and governance token) that is currently being used to power Theta's main chain. The fee token for all subchains will be TFUEL. However, subchain creators are able to dictate how much in gas fees users are required to pay. Additionally, the governance token for subchains will be a TNT-20 token and will not be native to the subchain. Holders of the main chain TNT-20 token will be able to mitigate the effect of subchain attacks (where a majority of subchain validators are compromised) and penalize attackers before they can escape with the stolen assets. In addition to the Metachain, the mainnet 4.0 upgrade will further upgrade their Elite Edge Nodes and to extend their Live Stream Support across the platform.

Theta has leveraged its network and capabilities to launch a broad range of partnerships that deliver immediate and lasting value to audiences around the world. Samsung in particular has helped advance Theta's adoption, and the platform's main esports streaming dApp, Theta.tv, will be included in future Galaxy S20 smartphones shipped to the U.S. Theta has also been working with Samsung's Visual Display group to help bring Theta Network's content-streaming services to their smart TV lineup. Binance plans to stream all future esports matches through Binance.com and Theta.tv, while integrating its exchange token, Binance Coin (BNB), into a custom-built Theta video player with interactive chat functions. In addition, Theta has partnered with Gumi Cryptos, a blockchain-focused venture capital firm, to enter the Japanese media market and live-stream major cryptocurrency conferences.
Theta Network has provided a unique solution to the video-streaming sector and as a result has segmented itself as an innovator within the industry. The blockchain already has a history of success and has a clear vision for its future. With its valuable partnerships, Theta Network has the ability to reach people all over the world and gain large amounts of users. Given these factors and its current low price, a long-term investment in THETA may be appealing given that the video-streaming industry continues to grow and Theta Network is growing alongside it.
Disclaimer: Please note that the contents of this article are not financial or investing advice. The information provided in this article is the author's opinion only and should not be considered as offering trading or investing recommendations. Please conduct your own due diligence before making any investment decisions.
References:
https://coinmarketcap.com/currencies/theta-network/
https://explorer.thetatoken.org/
https://assets.thetatoken.org/theta-mainnet-4-whitepaper.pdf