By Aidan Kalish | Crescent City Capital Market Analyst Intern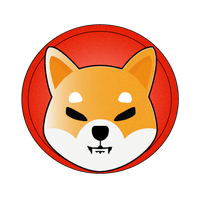 Shiba Inu is an example of what can happen when a cryptocurrency project is completely run by its community. Launched in August 2020, Shiba Inu is a meme token playing a parody on the cryptocurrency sector. After gaining popularity and a loyal community the coin, named After the dog breed, has begun to evolve from a meme to having its own vibrant ecosystem.
The anonymous creator of Shiba Innu is known as Ryoshi. Very little is known about the coin's mysterious founder. In his blog Ryoshi Research, Ryoshi characterizes himself as "just some guy of no consequence tapping at a keyboard." Ryoshi has not been publicly active online for some time as it has been over a year since Ryoshi has posted on the online blog platform Medium and has also deleted all tweets from Twitter. Shytoshi Kusama, a lead Shiba Inu developer, wrote in a blog post celebrating the one-year anniversary of Ryoshi's last post on Medium:
"The ethos of Ryoshi to remain anonymous and have no input on the direction of Shib, makes our mythos even more mystic and impressive. We've built from nothing, never paid an exchange for a listing, and revolutionized 'meme' tokens by growing exponentially."
Initially, Shiba Inu had a supply of one quadrillion tokens. 50% of the total supply was locked in the Ethereum-based decentralized exchange (DEX) Uniswap while the other half was sent to Vitalik Buterin, one of the co-founders of Ethereum, for safekeeping. In July 2021, Buterin donated 50 trillion SHIB coins, representing 5% of its total supply, to India's Covid-19 relief fund. Buterin also burned 40% of its total supply to a dead wallet. This enabled the true decentralization of the network as well as ensuring Shiba Inu's long-term success and stability.
The native token for Shiba Inu is SHIB, an ERC-20 token. The network uses two other tokens as well, LEASH, another incentive-oriented token, and BONE, a governance token used on the network's Doggy DAO.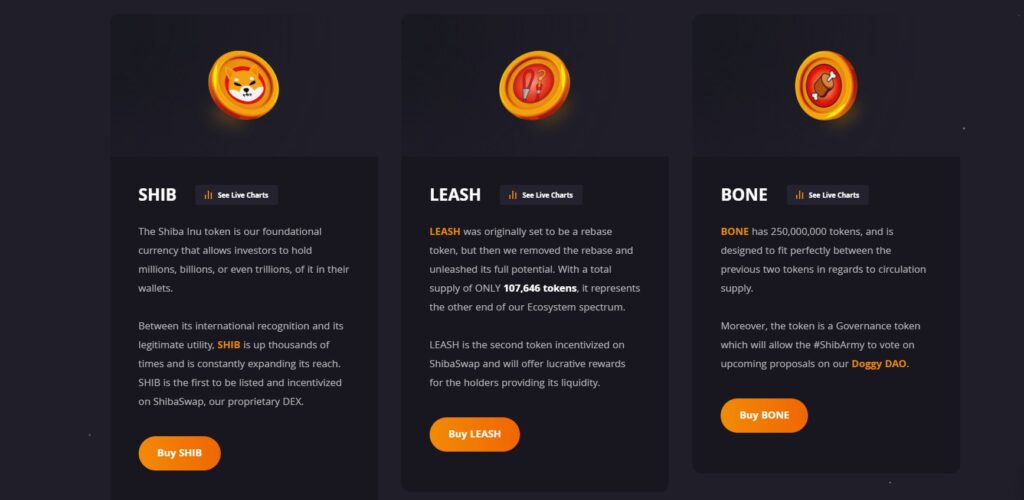 At the time of writing, SHIB has a market cap of $6.6 billion and a fully diluted market cap of $7.1 billion, making it the 13th largest cryptocurrency. SHIB began 2022 trading at $0.00003405 and has since fallen to a current value of $0.00001208.
The network began its transformation into a crypto ecosystem with ShibaSwap, the network's native DEX. ShibaSwap allows users to provide liquidity, stake, and swap tokens as well as gain rewards through a passive income system. Another feature is the Shiba Inu Incubator, which helps artists turn their artwork into non-fungible tokens (NFTs). Once created the NFTs are able to be sold on ShibaSwap. Developers are also working on a layer-2 solution for the network to eliminate its dependence on the Ethereum network. Named Shibarium, it will allow users to bypass expensive gas fees on the Ethereum network when using Shiba Inu based decentralized applications (dapps). An algorithmic stablecoin called SHI is also in development. Instead of being pegged to one dollar like most stablecoins, SHI will be pegged to one cent. Ryoshi envisions SHI working in a similar way to DAI, that way SHI would have collateral as a backstop to push its value back to one cent if the peg was ever lost.
Shiba Inu is widely recognized as a meme token but is trying to reinvent itself after becoming one of the largest cryptocurrencies by adding more features to its ecosystem. The future of SHIB may depend on if the network can find a use that leads to its widespread adoption. This could cause Shiba Inu to behave like its fellow memecoin, Dogecoin (DOGE) which jumped from $0.0002 to nearly $0.75 in early 2021. On the other hand, another rival meme coin could surface and capture the attention of investors. It is important to note the unexpected rise of other meme tokens when considering whether SHIB is worth investment.
Disclaimer: Please note that the contents of this article are not financial or investing advice. The information provided in this article is the author's opinion only and should not be considered as offering trading or investing recommendations. Please conduct your own due diligence before making any investment decisions.
References:
https://coinmarketcap.com/currencies/shiba-inu/
https://whitepaper.io/document/758/shiba-inu-whitepaper