By Tyshe Jiang | Crescent City Capital Market Analyst Intern

What is Maker
MakerDAO is a decentralized autonomous organization building on the Ethereum blockchain. MakerDAO uses its own stable token Dai which is also the governance token to be pegged to the US dollar and minimize price volatility. MakerDAO was fully launched in 2017 by Rune Christensen, an entrepreneur from Sealand, Denmark. Prior to MakerDAO, he co-founded and managed the Try China international recruiting company.
What Makes MakerDAO Unique
The MakerDAO is an innovative use of blockchain technology and smart contract capabilities that aim to make borrowing and lending cryptocurrency easier and less risky. MakerDAO different from other platforms allows the whole protocol to function autonomously, making it fully trustless. There will be no monitoring or verification from a central authority. MakerDAO promotes transparency by tracking the Maker network and its procedures on the blockchain.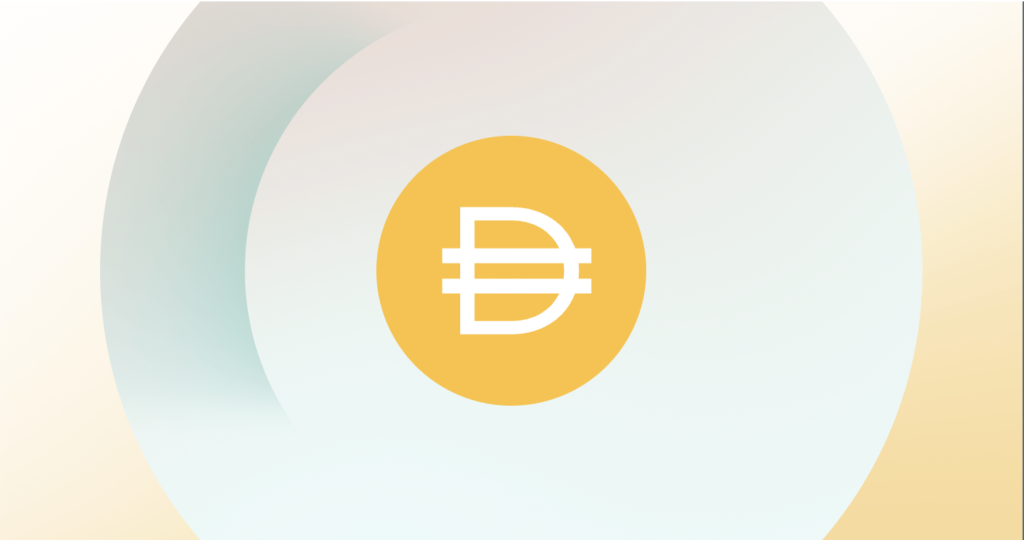 By soft-pegged to the U.S. dollar, which means using other currencies that are locked in the Maker protocol as collateral, Maker creates an innovative way to create a stable solution for lending and borrowing Dai. Dai is MakerDAO's stable-coin functioning on the Ethereum blockchain. One Dai equals one US dollar. Meanwhile, Maker crypto (MKR) is utilized to keep this system running. The MKR coin both stabilizes and counteracts volatility in the price of Dai. MKR is formed if the price of Dai falls too low. Similarly, if it rises too much, MKR is destroyed. 
The operating logic of the Maker protocol and the construction of stablecoins give Maker users more control and transparency with no volatility. Meanwhile, Maker has one of the greatest total value locked (TVL) of any cryptocurrency, which refers to the total amount of assets placed in the network. Hundreds more applications and exchanges utilize it as well.
Recent Updates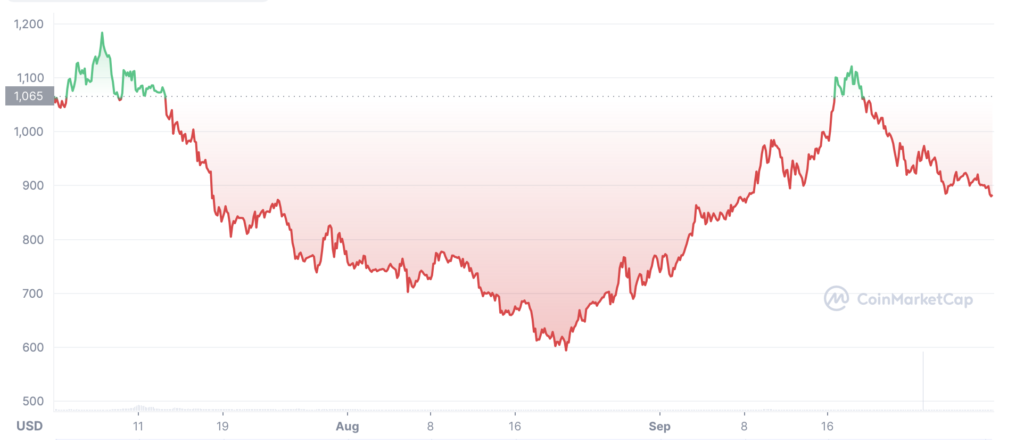 The Maker price on Nov 1st is $883.10 USD with a 24-hour trading volume of $25,446,086 USD. Maker is down 2.11% in the last 24 hours. It has a circulating supply of 977,631 MKR coins and the total supply would be 1,005,577 MKR coins.
MakerDAO Passes Vote to Break its DAO
MakerDAO marks a big change for one of crypto's largest decentralized autonomous organizations (DAOs). It passed a governance vote to break its project into multiple organizations. The proposal called "Endgame" will break up MakerDAO into smaller clusters called "MetaDAOs.". MetaDAOs will operate autonomously and have their own parallel governance frameworks. As a result, each MetaDAO will have its own coins and decision-making architecture. The vote also shows that Maker voters united around the founder's objective of achieving decentralization. While the vote passed, several members of the community claimed that MakerDAO's founder, Rune Christensen, had excessive influence over it.
Summary
The transparency and stability of maker have attracted many virtual currency investors. The passage of Endgame also generated two public opinions in the community. One side believes that this novel, decentralized approach can break many of the inefficiencies that plague traditional organizations and DAOs. Others like Park Y, a StarkNet developer, argue that it is impossible for these entities "to truly separate [themselves] from the parent [organization], and the risks borne by these entities perpetuate through the entire ecosystem." In conclusion, MetaDAOs' emergence is quite novel, and the impact on the Maker ecosystem will take time to show.
Disclaimer: Please note that the contents of this article are not financial or investing advice. The information provided in this article is the author's opinion only and should not be considered as offering trading or investing recommendations. Please conduct your own due diligence before making any investment decisions.
References:
https://coinmarketcap.com/currencies/maker/
https://www.sofi.com/what-is-maker-mkr/
https://www.theblock.co/post/181118/here-are-the-five-biggest-crypto-stories-of-the-past-week?utm_source=coinmarketcap&utm_medium=rss
https://decrypt.co/113118/makerdao-splits-endgame-proposal