By Jing Zhu | Crescent City Capital Market Analyst Intern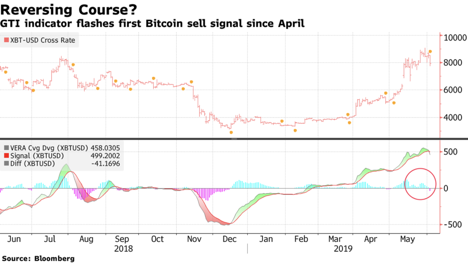 According to the GTI Vera Convergence-Divergence indicator, which displays positive and negative trends, the halt in Bitcoin's rally may include further downsides. Jake Stolarski, a senior trader at Greenwich, asserts that the market is currently trying to stabilize. As a result, key technical levels are creating high volatility in the market. Bitcoin price dropped 12% to $7,544.42 since its 62% surge in May. Even though Bitcoin briefly rose back to trade at $9000 last week, it has not reached that level since. Other coin prices have fallen well, as shown by Ether and Litecoin. Stolarski claims that resistance levels are evident to people who are trying to find a stabilizing point in the market.
Ethereum Price Recovering but Still Struggling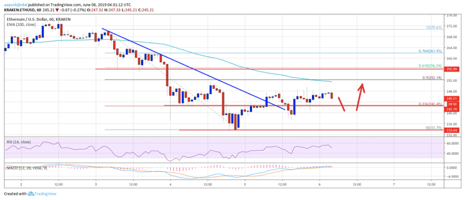 Ethereum has begun a short recovery after trading at a low of $233. The price action is currently positive. For example, Ethereum has exceeded the resistance levels of $235 and $240. Its price has broken above the 23.6% retracement level of the $270 high to the $233 low. However, many hurdles remain. The price is currently trying to the break the $248 – $252 level of resistance. If price does not move above $252, then there could be a risk of downside extension below $230.
Ripple Inches Closer to Breakout
Ripple is looking for support that will allow it to reverse the trend above $0.40. Price declines in the past few days have demoralized buyers, who appear to be hibernating for now. There is just enough buying power to sustain the weak support above $0.39. There is tested support at the $0.38 level.
Bitcoin Cash Has Limited Upside
Bitcoin Cash is currently trading at $389.17 after a 2.15% loss. The declines from the last week of May have caused a bit of a downward pattern in price. Bitcoin Cash has touched levels close to $360, although it made a short-lived recovery above $400. Upside is still limited under the 100 four-hour MA (moving average). An increase in selling pressure also makes it hard to break $400. For now, expect to see prices range from $375 – $400.
"Bitcoin Indicator Flashes a Sell Signal as Slump Accelerates" by Vildana Hajric for Bloomberg published 6/4/19
"Ethereum Price Recovery Underway but Still Struggling" by Aayush Jindal for NewsBTC published 6/6/19
"Ripple price analysis: XRP/USD inches closer to a breakout – Bollinger Band consolidation" by John Isige for FXStreet published 6/6/19
"Bitcoin Cash Price Analysis: BCH/USD Hunting for Support; the Upside is Limited" by John Isige for FXStreet published 6/6/19