by Ira Rahman
Covid-19 has imposed numerous challenges to the world's economy. Whether supply bottlenecks, sickness impacting the labor force, currency inflation, or political instability, the challenges are even more exasperated in communities in the developing world, where governments have fewer resources for the pandemic and its effects. By the year 2021 we have seen growth in the crypto market in the U.S and even a larger increase around the world. Trading volumes in Brazil have risen 2,247% in 2021, 833% increase in one year in Venezuela as hyperinflation increases, 143% increase in Turkey and, in Nigeria, Africa's largest economy, trading volumes have risen 128% year.
There has been an increase in crypto trading in developing due to the advantages a decentralized monetary system creates. One of the critical factors encouraging people to use cryptocurrency is the cost of transferring money. The World Bank reported in 2020 that sending money to Africa via traditional bank transfer costs an average fee of 8.9% compared to the global average of 6.8%. Sending money abroad, or even receiving funds from overseas, comes with additional costs, such as exchange rates and fees. This is where crypto is helping fill that gap. With Bitcoin, you can have an international bank account, and the costs are much lower.
This year El Salvador made cryptocurrencies a legal tender in the country. El Salvador's economy is heavily reliant on the remittance market, accounting for more than 20% of their GDP, with 95% of remittances sent by Salvadorans working in the United States to their families. Existing remittance services charge fees for these transfers, accounting for a sizable portion of the value sent, especially for smaller transfers. Funds can also take days to arrive and are frequently collected in person, increasing the time and cost. An estimated 70% of El Salvador's population lacks access to a bank account, which adds to the time and cost according to Forbes. Overall, in Latin America, only 30% of the population over the age of 15 have a bank account, according to 2019 data by consultant McKinney. Due to the significant size of underbanked communities, cryptocurrencies offer a way to transfer and keep online savings. Additionally, due to rising inflation imposed by the economic challenges of the pandemic, many people are looking at cryptocurrencies as an additional asset class.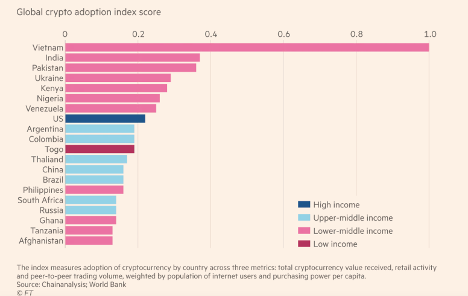 What is could it mean for the price of bitcoin and other coins?
As crypto trading volumes increase worldwide, they have led to increasing interest in regulations. Initially hesitant about digital currencies, some countries are now seeing their benefits for their citizens. Prince Clem Agba, a Nigerian minister of state for budget and national planning, has extended his support for the budding space of cryptocurrencies before the government of Nigeria. Earlier this year, Nigeria's central bank had banned Bitcoin transactions facilitated by commercial lenders. Agba believes that imposing anti-crypto regulations in the country could lead to grim consequences. The minister's support for cryptocurrencies comes amid Nigeria's economy struggling to overcome inflation caused due to slow, COVID-riddled economic activities. He states in a Bloomberg report "The uncertainty in regulating cryptocurrencies risks denying government and citizens the chance to maximize opportunities from the technology."
As of today, BTC is at 47,700, and other coins are also lower today than they were a few months ago. However, many investors are still bullish about the market. In an interview report by Times magazine, Robert Breedlove founder and CEO of the marketing of the digital assets and consulting firm Parallax Digital pointed to how the last quarter of 2021 is roughly 510 days after an event called "halving," in which Bitcoin's algorithm changes the reward for mining transactions on the blockchain. Breedlove said past halving events had been followed by new highs roughly 500 days afterward. Breedlove predicts the price of BTC will reach surpass $100,000 next year. A bullish analysis is followed by the increase in demand in digital currencies around the world. Popular crypto exchange Coinbase says it now has over 73 million worldwide users. In contrast, fellow exchange Gemini recently released its "State of U.S. Crypto Report," which found 21.2 million Americans own cryptocurrency.
Laurel, A. "Cryptocurrencies are taking the developing world by storm, with more users now in Nigeria than in the US – 2 experts lay out how bitcoin is changing emerging-market finance," Bisaya News; Bisayanews.com, July 17, 2021. https://www.bisayanews.com/2021/07/17/cryptocurrencies-are-taking-the-developing-world-by-storm-with-more-users-now-in-nigeria-than-in-the-us-2-experts-lay-out-how-bitcoin-is-changing-emerging-market-finance-currency-news-financial/
DeMatteo, M. "Bitcoin is on its way to $100,000, according to experts. Here's when they predict it will happen." Time Magazine; time.com, Dec 16,2021 https://time.com/nextadvisor/investing/cryptocurrency/bitcoin-price-predictions/
Shumba, M. "Cryptocurrencies are taking the developing world by storm with more users now in Nigeria than in the US." MSN Money; msn.com, July 17, 2021. https://www.msn.com/en-us/money/markets/cryptocurrencies-are-taking-the-developing-world-by-storm-with-more-users-now-in-nigeria-than-in-the-us-2-experts-lay-out-how-bitcoin-is-changing-emerging-market-finance/ar-AAMg3Iy
Parashar, R. "Nigerian Minister Favors Cryptocurrencies as Nation Battles Inflation" Gadgets 360; gadets.ndtv.com, Dec 13, 2021. https://gadgets.ndtv.com/cryptocurrency/news/nigerian-minister-suggests-government-legalise-cryptocurrency-2648621
Wintermeyer, L."Could Developing Nations follow El Salvador's move to Bitcoin?" Forbes Magazine; Forbes.com. Aug 5, 2021. https://www.forbes.com/sites/lawrencewintermeyer/2021/08/05/could-developing-nations-follow-el-salvadors-move-to-bitcoin/