By Tyshe Jiang | Crescent City Capital Market Analyst Intern
What is Graph
The Graph is an indexing protocol for organizing and displaying data for blockchains and networks like Ethereum. The Graph protocol enables developers and builders to generate their own collection of data. Basically, it builds a technology that takes the information and puts it into a manner where the user can use it to display the information. The Graph makes it simple for applications to integrate, and the Graph's API makes data access in the crypto market cheap, reliable, and fast. The Graph Protocol Inc is a project founded in 2018 by Brandon Ramirez, Jannis Pohlmann, and Yaniv Tal.
What Makes The Graph Unique
Like google displays verifiable information on the website, the founders of The Graph let users easily access data in the blockchain space by using API, which can be called a "subgraph" that links on-chain data to any application that is being built by developers. Thousands of developers have deployed over 3,000 subgraphs. By combining web3 protocols, all data is stored and processed on open networks that are verifiable, and developers may create applications to address the world's greatest challenges.

To protect The Graph Network's economic security and the integrity of the data being searched, GRT which is the native token for The Graph's network has been created. GRT is locked up by Developers, Indexers, Curators, and Delegators. Users use GRT to pay protocol for indexing their work and earn the token based on the job they do in the GRT stake. Staking rewards vary stake, but the average would be 3%. GRT also features a burn mechanism, which deducts 1% of a stake when it is deposited into the network.
Other than Ethereum, The Graph Network will now allow NEAR and EVM-compatible chains. This implies that subgraphs may be constructed across chains, giving developers more options for where to deploy their smart contracts.
Recent Updates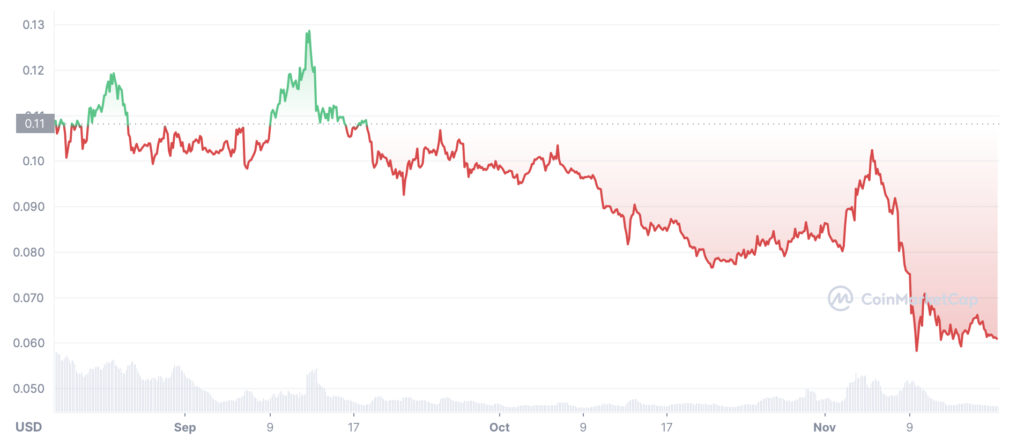 The Graph price on Nov 17th is $0.060078 USD with a 24-hour trading volume of $14,752,176 USD. It has a circulating supply of 6.90B GRT and the total supply would be 10,000,000,000 GRT.
Plans to Integrate Arbitrum in 2023
The Graph plans to migrate the entire Graph protocol to Arbitrum, one of the most widely used L2 chains. Layer 2 is a separate blockchain that helps extends layer 1., such as extending Ethereum while inheriting Ethereum's security guarantees, which can reduce transaction fees and congestion.
Summary
With subgraphs, it's impossible to envision most blockchains not adopting free data for their own advantage. This technology has come a long way with only one chain support; picture what will happen once more chains are added. The Graph's protocol will become more popular as the demand for GRT grows.
Disclaimer: Please note that the contents of this article are not financial or investing advice. The information provided in this article is the author's opinion only and should not be considered as offering trading or investing recommendations. Please conduct your own due diligence before making any investment decisions.
References:
https://www.mohodls.com/research/the-graph-grt-asset-review