By Tyshe Jiang | Crescent City Capital Market Analyst Intern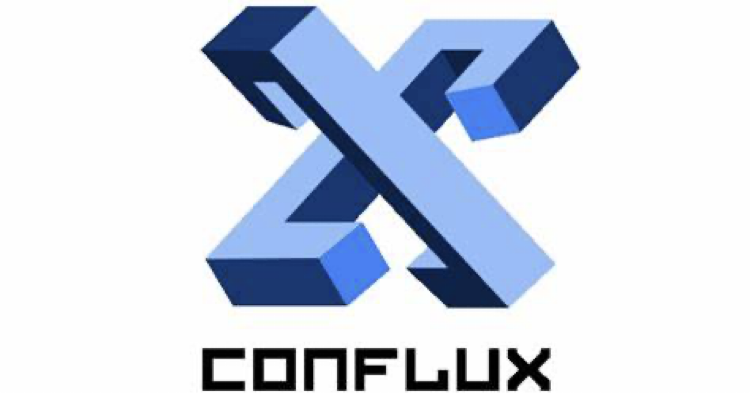 What is CFX
Conflux is a new safe and reliable public blockchain with high speed and scalability that promotes cross-border and multi-chain collaboration in the continent and beyond. It is launched in 2018 by the Conflux foundation and based in China. And it is the only state-endorsed public blockchain in the country. As a result, it serves as a home for blockchain projects in the Asian countries and strengthens its crypto ecosystem.
Tree Graph
The most unique thing about CFX is that it uses a hybrid model incorporating with PoW (Tree-Graph) and PoS consensus mechanisms to secure the network. In Conflux ledge, each blocks would reference some other blocks with one of them being its parent block, which looks like a tree. With its cooperation with a PoS consensus, it increases Conflux's security and efficiency.
Meanwhile, Conflux also uses Greedy-Heaviest-Adaptive-SubTree(GHAST) consensus algorithm, which has been updated from GHOST a few years ago. GHAST can be used to determine the pivot chain through heaviest subtree rule. From the Genesis block, select the subtree with the largest number of blocks as the next block on the main chain. For example, Block A and Block B are the two subtrees of the Genesis block. A block has six blocks and B has five, so block A is chosen as the next block on the main chain. Meanwhile, GHAST also allows the Conflux nodes to detect some attacks through adducting the weights of the blocks so that slow down the time of confirming transactions, especially when people try to generate two balanced subtrees that may hurt the liveness. By applying this, Conflux can eliminate "51% attacks".
The Tree-Graph ledger and the GHAST consensus allows Conflux nodes to produce new blocks fast without fear of forks in the ledger network security, allowing the system to achieve both high throughput and low transaction confirmation time.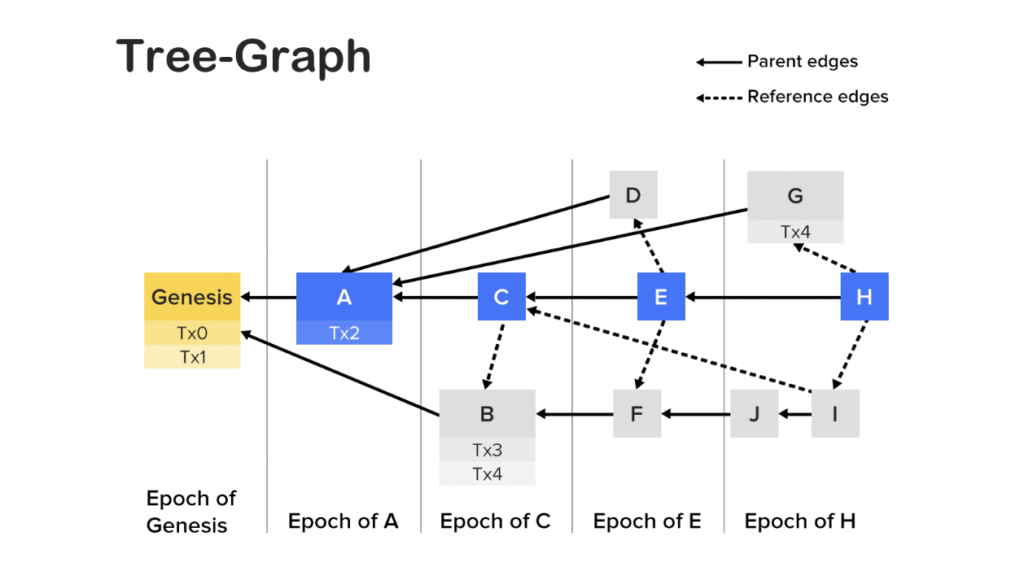 Scalability
Shuttleflow is a Conflux cross-chain solution for integrating bitcoin and ethereum user assets. Meanwhile, developers can also enjoy unmatched scalability on the interoperable network. The distinctive feature of this scalability is that it is achieved without losing decentralization. The network's 6000 Transaction Per Second (TPS) rate is among the fastest in the crypto world. When compared to popular networks such as Ethereum and Bitcoin, it is quicker.
CFX Token
CFX token functions as a utility and governance token in Conflux Chain, which allows token holders to pay transaction fees, receive rewards through staking, rent storage, and participate in network governance. CFX also rewards and incentivizes miners who are in charge of guaranteeing the Network's security. Like other chains, the more CFX users hold, the more weight their vote has. The token may also be used by developers to generate bonded storage for their DApps. To do this, they will enter into a smart contract and earn interest on it. A percentage of the interest collected by staking is sent to miners to help secure the network. The token may be purchased on a variety of cryptocurrency exchanges.
Recent Updates
The CFX price on Feb 1st is $0.05821 with a 24-hour trading volume of $18,856,535 USD. It has a circulating supply of 2,090,735,404 CFX coins. On Jan 26th, CFX surged by 38% to trade above $0.076. The reason behind this surge is because Conflux token will integrate with an application called Red Little Book, which is a Chinese version of Instagram, to let users display their NFTs on the platform. According to Conflux Network and Qiangua's 2022 Red Little Book Active User Portrait Trend Report, Little Red Book has over 200 million monthly active users. According to Ming Wu, Conflux's CTO, Conflux is becoming a "important bridge" for uniting "prominent internet industry heavyweights" in China that have begun efforts to embrace web3.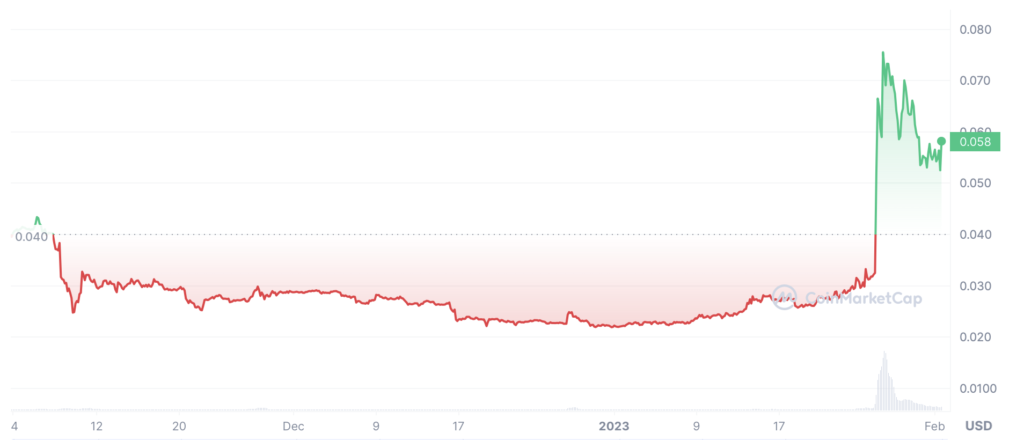 Summary
Based on Conflux's tree-graph structure blockchain system, the founding team is also a strong group of people in the blockchain field, and now through the launch of more new platforms, Conflux has more exposure and future growth.
Disclaimer: Please note that the contents of this article are not financial or investing advice. The information provided in this article is the author's opinion only and should not be considered as offering trading or investing recommendations. Please conduct your own due diligence before making any investment decisions.
References:
https://developer.confluxnetwork.org/
https://coinmarketcap.com/headlines/news/conflux-token-soars-following-nft-partnership-with-chinese-version-of-instagram/
https://coinmarketcap.com/currencies/conflux-network/