By Rayna Ishihara | Crescent City Capital Market Analyst Intern
What is Tron
TRON (TRX) is a blockchain network that seeks to accelerate the decentralization of the internet by utilizing decentralized apps (DApps). Founded in September 2017 by H.E. Justin Sun, the TRON network has maintained exceptional performance since the release of its mainnet in May 2018. Additionally, TRON aspires to serve as the underlying framework for advanced services such as decentralized gaming networks, trading platforms, and decentralized finance (DeFi) applications.
Tron uses blockchain technology and peer-to-peer (P2P) networks to eliminate intermediaries and enable content creators to sell their work directly to consumers. The Tron network's architecture is similar to Ethereum, utilizing decentralized applications (dApps), smart contracts, and tokens. However, some have criticized Tron for borrowing rather than innovating the fundamental components of its platform.
In 2018, Tron gained more significant exposure when its development non-profit, the Tron Foundation, acquired peer-to-peer networking trailblazer BitTorrent. This acquisition was followed by the launch of a BitTorrent token on the Tron blockchain in 2019, which allowed Tron to introduce a new cryptocurrency to millions of users. Recently, the TRON network has achieved complete decentralization, becoming a DAO governed entirely by the community.
Tron Tech
TRON utilizes an account-based model similar to Ethereum, where cryptographic keys control access to TRX and TRX token balances. The exchange of this data is routed through three layers in TRON's architecture: the storage, core, and application layers. In TRON's core layer, there are various modules such as consensus, account management, and smart contracts. To achieve consensus, TRON uses a delegated proof-of-stake (DPoS) consensus mechanism.
Delegated proof-of-stake (DPoS) allows users to use their currencies to vote for different delegates who then have the power to make important decisions for the network. DPoS is a more energy-efficient alternative to proof-of-work used by Bitcoin, and it involves people voting for nodes that process transactions on the network. The Tron network has 27 "super representatives" who validate transactions, create new blocks, and compete for rewards based on good behavior. The voting system is ongoing, and super representatives can be replaced if they misbehave.
Tron Token
TRONIX (TRX) is the mainnet native token of the TRON Protocol and the basic unit of accounts on the TRON blockchain. It serves as a natural medium currency for all TRC-based tokens and connects the entire TRON ecosystem, allowing for abundant application scenarios that power transactions and applications on the chain.
TRX holders can participate in the selection of the super representatives by staking their tokens, and the platform allows content creators to receive payment while maintaining control of their works. TRON's transaction fee is as low as $0.000005, and the network supports up to 2000 transactions per second, making it faster than Bitcoin and Ethereum. TRX was granted statutory status as authorized digital currency and medium of exchange in the Commonwealth of Dominica effective October 7th 2022.
Recent updates
The live TRX price on April 28th is $0.06669 USD with a 24-hour trading volume of $162,575,745 USD. It has a circulating supply of 90,643,546,331 TRX tokens.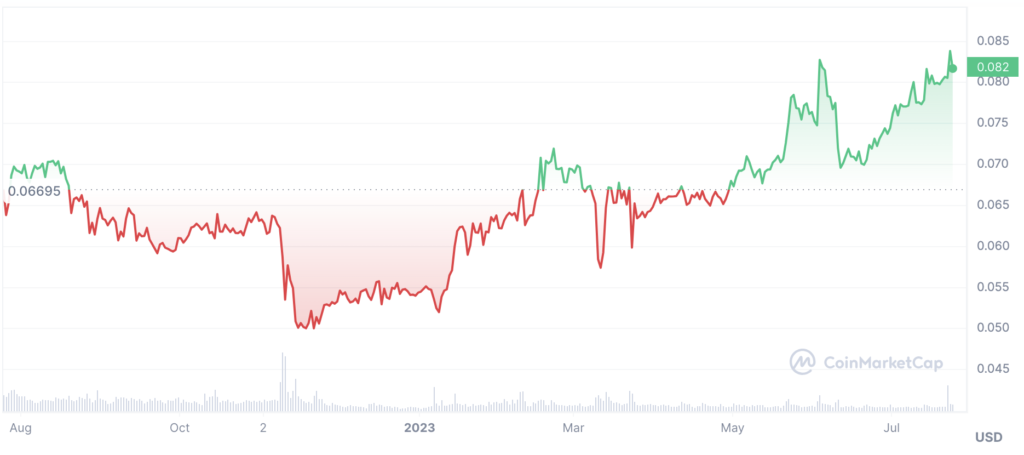 Summary
Tron (TRX) is a blockchain-based platform designed to decentralize the entertainment industry. It aims to provide a global, free, and decentralized digital content entertainment system with blockchain and distributed storage technology. Tron allows content creators to have control over their content and receive payment directly from consumers, without the need for intermediaries. Additionally, Tron has its own cryptocurrency, TRONIX (TRX), which serves as the basic unit of accounts and as a medium currency for all TRC-based tokens. Tron uses a consensus mechanism called delegated proof-of-stake to achieve consensus on its network.
References
https://coinmarketcap.com/currencies/tron/
https://cointelegraph.com/learn/what-is-tron-trx-and-how-does-it-work-a-beginners-guide
https://www.kraken.com/learn/what-is-tron-trx
https://www.investopedia.com/tech/what-tron-trx/