By Andy Wang | Crescent City Capital Market Analyst Intern
What Is Astar?
Astar is a decentralized multi-chain platform that helps developers build smart contracts, decentralized applications(dApps), and layer 2 solutions by providing interoperable web 3.0 infrastructure, incubation programs, technical support, and financial incentives. Astar Network aims to provide the best solution for all developers with support for both Ethereum virtual machine (EVM) and WebAssembly (WASM) virtual machines while allowing them to earn a utility token, ASTR.
Astar Network started in 2019 under the name "Plasm Network," but was rebranded in September 2021. Mainnet was released to the public in mid-January 2022 by Sota Watanabe, detailing his idea for Astar Network. In late-January 2022, shortly after Astar went public, it raised $22 million from Scytale Ventures through venture funding.
In March 2022, Astar joined the Acala Ecosystem Program ($250M aUSD) with Polkadot Parachains and venture partners. Astar's parachain, in conjunction with EVM, allows EVM and WASM smart contracts to co-exist and communicate with each other to enable Web3 innovations. Its technology connects the Polkadot ecosystem with layer 1 blockchains like Ethereum and Cosmos. In April 2022, Astar teamed up with Digital Entertainment Asset Pte. Ltd. (DEA) to integrate DEA's GameFi content IP into the ecosystem, allowing play-to-earn (P2E) games, the DEAPcoin (DEP) native token, and an NFT marketplace for both parties.
At the same time, Watanabe identified three key challenges in the existing Web3 landscape he sought to address with the creation of Astar:
Scalability: a blockchain's lack of scalability often leads to a bad user experience (UX), while making enterprises steer clear from using it.
Interoperability: moving value from one chain to another is difficult—at the same time, going multichain for a dApp often means developing and maintaining multiple smart contracts.
Lack of developer incentives: Developing and maintaining open-source code isn't necessarily profitable.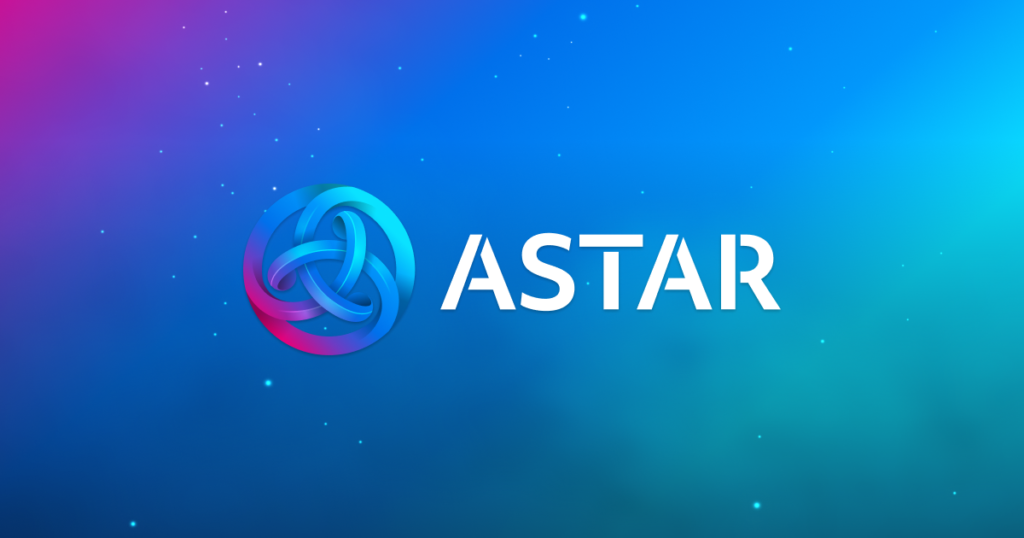 How Does Astar Work?
The Astar Network works on two layers. The first layer (called the base layer) is a layer one blockchain built using the Substrate blockchain framework. The second layer is a scaling solution that is created by using an Optimistic Virtual Machine (OVM) invented by the Plasma Group. Astar allows developers to use the OVM module to customize their scaling design. Later, developers can plug their application layers into the base layer of Astar using Plasma or ZK rollups. Layer 2 solutions on Astar store data and commit state transitions on Astar's base layer.
The Astar network has the following core features:
Developer rewards and dApp staking:
Developers who build smart contracts or infrastructure on the Astar Network are incentivized. dApp Staking is a simple but effective mechanism, available exclusively on Astar within the Polkadot ecosystem. Also, Astar token holders that wish to support a particular dApp can stake their tokens. As such, developers will receive rewards based on the amount staked on their applications.
From the outside, dApp staking might feel a lot like normal staking, but instead of staking with a validator securing the chain, tokens are staked to your favorite dApp. This not only reduces the number of tokens in circulation and provides developers with an income through staking rewards. That, obviously, is a Win-win.
Operator Trading:
This feature on the platform allows operators to earn rewards. A developer on the platform may choose to assign a particular operator to a task of chain maintenance or administration for a particular use case. Now, operators may choose to sell off this task and earn rewards in return. This feature will enable the creation of off-chain markets.
The Polkadot Ecosystem and Astar Network
Astar is part of the Polkadot network. Astar is maintained through special nodes called the collater nodes. This node holds the complete blockchain of Astar and state of Astar, as well as the accounts, transactions etc. The difference is that collater nodes don't actually validate transactions.
The collator nodes receive transactions from the network and package them into blocks. The blocks are then sent and validated by relaychain validator nodes. The relaychain validator nodes are the same Polkadot validators. The state of the Astar network is also kept in the relaychain in the Polkadot network.
Relaychain validator nodes keep the Polkadot network running as well as the Astar network. Polkadot and Astar share the same security. Polkadot uses the Nominated Proof of Stake (NPoS) consensus to make sure that the network is secure and safe.
We can see how this works in the image below.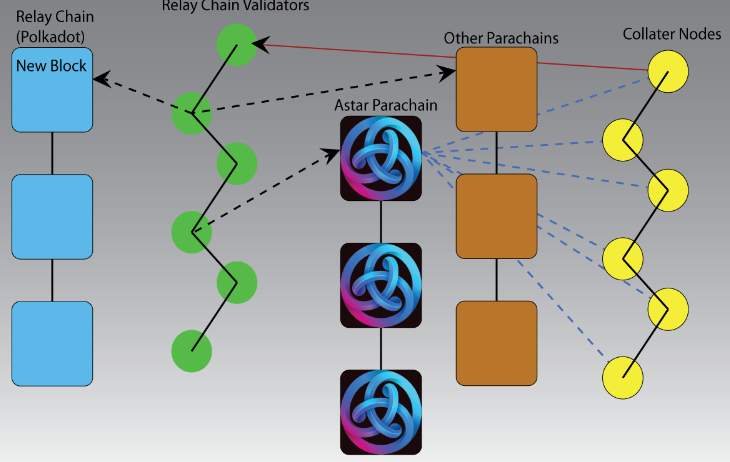 How Is Astar Interoperable with Other Blockchains?
Astar is interoperable with other blockchains because of 3 basic details.
First of all, Astar, being a parachain, can communicate with other parachains and with Polkadot via the relaychain that it is connected to. Parachains cannot communicate directly. With the relaychain being the center of Polkadot, Astar can essentially communicate with Polkadot back and forth, directly.
Secondly, Astar is going to be interoperable with Cosmos. The team at Astar made a partnership with another project called Octopus Network to create an Astar and Cosmos bridge.
Lastly, Astar is interoperable with Ethereum and other blockchains via smart contracts and the Ethereum virtual machine(EVM).
But since Astar is EMV compatible, bridging from EVM compatible blockchain networks is possible via smart contracts. People can bridge assets from Astar network to Ethereum, Polygon, Avalanche and other networks that are also EVM compatible.
Recent Updates
The live Astar price on Aug 26, 20223 is $0.061962 USD with a 24-hour trading volume of $10,478,754 USD. Astar is down 2.08% in the last 24 hours. The current CoinMarketCap ranking is #99, with a live market cap of $292,798,220 USD. It has a circulating supply of 4,725,412,789 ASTR coins and the max.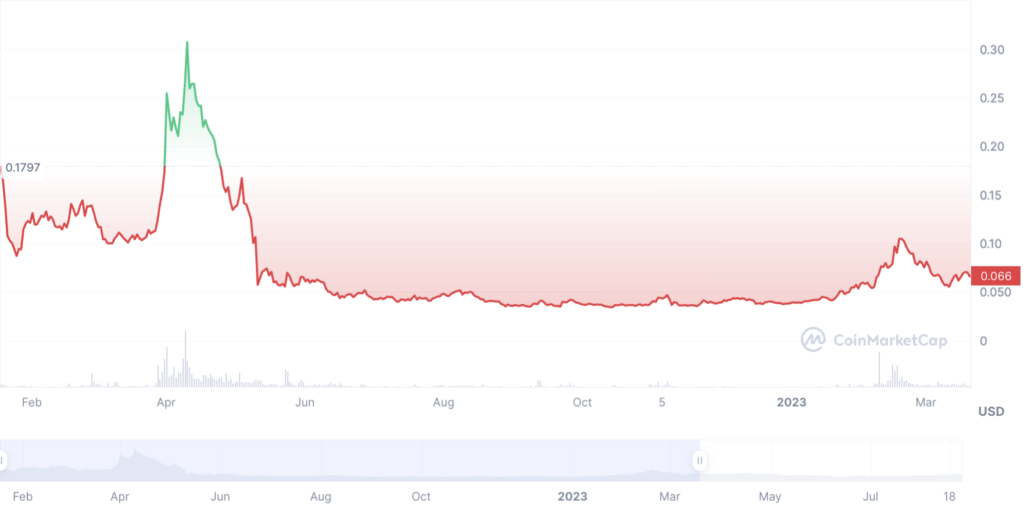 Summary
Is it a good time to put ASTR into our portfolio?
On Aug 25, 2023 Fed Chief Powell had a hawkish stance that the US central bank is prepared to raise interest rates further if needed and intends to keep borrowing costs high until inflation is on a convincing path toward the Fed's 2% target. Meaning, the Fed Fund Rates would even go to a higher range at 5.5% – 5.75%. That would make the traders and investors be more cautious about their positions. Hence, the same scenario as crypto market. Further, when you pay attention to the Fear & Greed Index, it is at 38, representing the market and investors are in the fear sentiment. Thus, from the macro perspective, "wait and see" would be a better way to get exposure in the crypto market.
Let's take a look at ASTR historical price movement. The highest price paid for Astar (ASTR) is $0.421574, which was recorded on Jan 17, 2022 (over 1 year). Comparatively, the current price is -85.25% lower than the all-time high price. Whereas, the lowest price paid for Astar (ASTR) is $0.03269521, which was recorded on Oct 13, 2022 (11 months). Comparatively, the current price is 90.24% higher than the all-time low price.
Astar's native token was priced at approximately $0.058840 seven days ago. However, the current value of ASTR is $0.061962, indicating an increase by 5.31% from its previous price. With a -3.86% price decline in the last 24 hours, and a -41% decrease in the daily trading volume, the value of ASTR has also experienced an additional decline in the past 24 hours. Despite the market's changing investment, the long-term outlook for ASTR appears positive, with a projected value of $0.095756 in 2024.
Also, The Astar team cherishes its roots and pushes towards Web3 adoption in Japan in Particular. To this end, Astar has partnered with leading Japanese companies like Hakuhodo (a big marketing agency), the railway company Tokyu, and recently worked with Sony for an incubation program. Beyond that, Astar is also involved in discussions with the government to build sensible frameworks for projects, users, and exchanges to operate in. In short, Astar is dominating Japan.
With that being said, As users in the crypto space increase every day, decentralized applications are going to be used in the mainstream. As such, the need of the hour is cheaper, faster, and richer experiences with dApps. Using Astar, developers only need to focus on richer experiences as it offers a faster, cheaper and scalable platform. I do believe that the current low-price period for Astar presents an advantageous opportunity for investors to buy the coin. Purchasing during such periods, especially when there is an anticipated price rise, may result in higher profit margins. However, it's vital to note that the cryptocurrency market is highly unpredictable, and predictions may not align with actual market prices on any given day. Thus, it's important to invest only the amount that you can afford to lose while making the purchase.
Reference
https://bitkan.com/learn/what-is-astar-astr-how-does-astar-work-343
https://messari.io/asset/astar/profile/technology
https://coinmarketcap.com/currencies/astar/
https://wiki.polkadot.network/docs/learn-parachains