By Aidan Kalish | Crescent City Capital Market Analyst Intern

VeChain is a blockchain-based platform that lowers the barrier of entry into blockchain adoption, allowing businesses access to this technology to create value and solve real-world economic problems. Founded in 2015, VeChain connects businesses to the real world, helping them enhance supply chain and product lifecycle management. The network's native ERC-20 token, VET, was launched in 2017 on the Ethereum blockchain and mainnet was achieved in 2018.
VeChain relies on technology that can enable the transparent flow of information, efficient collaboration, and high-speed transfers such as artificial intelligence (AI), and the Internet of Things (IoT). VeChainThor is the name of the public blockchain that is used to accomplish this. The blockchain utilizes a Proof-of-Authority (PoA) consensus to maintain the network. PoA is an efficient consensus method that allows more time for transmitting transaction data. This results in the blockchain having the ability to have a high Transactions Per Second (TPS) rate. VeChainThor also implements an enhanced transaction model called Meta-Transaction to tackle some of the fundamental problems that hinder the adoption of blockchain technology.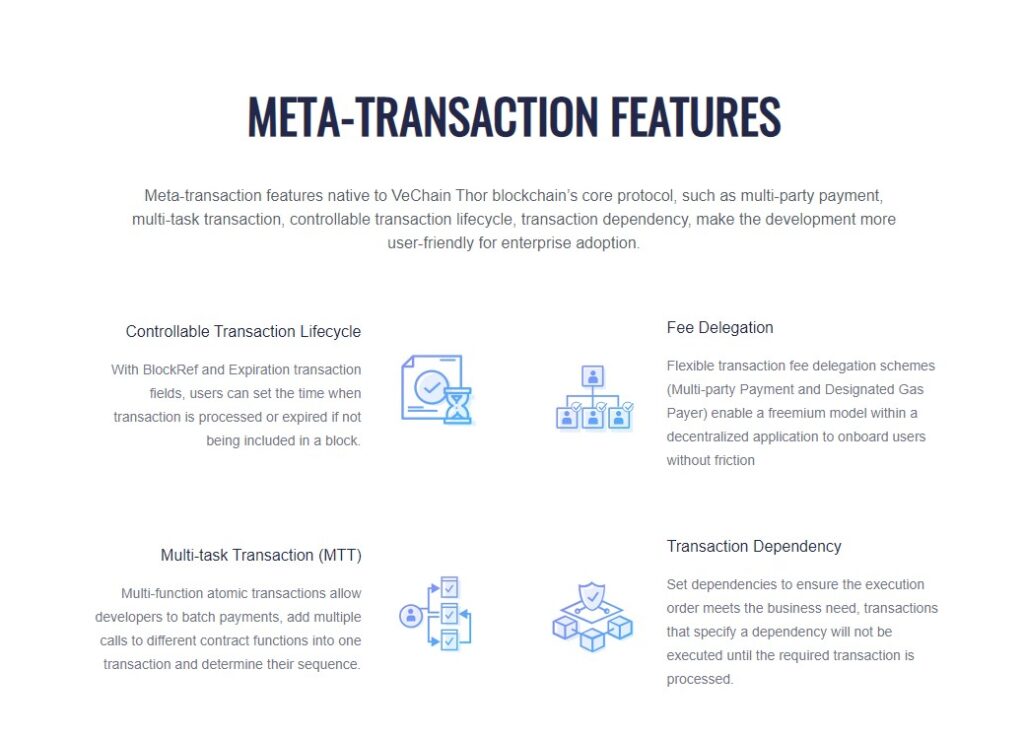 VeChain also supports another feature called VeChain ToolChain which is a one-stop data Blockchain-as-a-Service (BaaS) platform running on VeChainThor. ToolChain helps businesses integrate their business and data with blockchain without friction. Combined with VeChainThor, IoT, and AI, ToolChain significantly lowers the barrier of entry for enterprises to adopt blockchain technology and focus on exploring new business models.

The network uses two tokens, VET and VTHO. VET generates VTHO and acts as the store of value and medium of value transfer. VTHO is used to pay for gas fees which eliminates the need to expend VET when writing data on the blockchain. This brings the additional benefit of ensuring stable costs of using the network by tweaking certain variables when needed such as the amount of VTHO needed in gas fees or by changing the rate that VTHO is generated.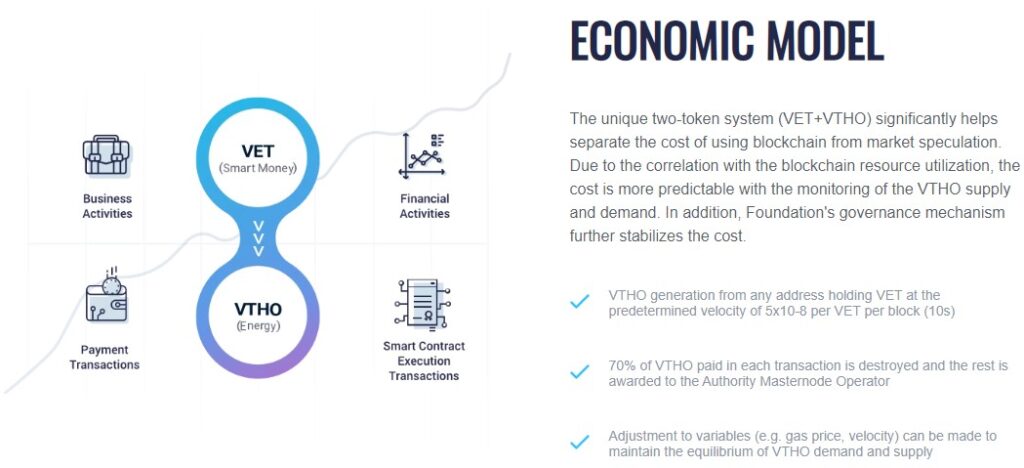 At the time of writing, VET has a market cap of $1.57 billion and a fully diluted market cap of $1.72 billion, making it the 32nd largest cryptocurrency. The token hit its all-time high on 4/18/21 at $0.25 and has fallen to a current price of $0.02.
VeChain has made a commitment to continually improving the network. Earlier this year VeChain marked a milestone by launching the first phase of the 2.0 version of its PoA consensus on the testnet, enabling the token to improve the network's scalability. VeChain has also been gaining exposure as it was announced in June that VeChain would become the first Official Layer 1 Blockchain Partner of the Ultimate Fighting Championship (UFC). This long-term partnership gives VET even more visibility as an estimated 900 million TV households in 175 countries receive UFC's broadcasts.
While VeChain has shown to have an efficient network that continues to improve and gain exposure, it has yet to achieve widescale adoption. While the token has a definite utility, the possibility of the rise of VET will likely depend on the network attaining a larger user base. While the future of the network is uncertain, the utility of VET proves that VeChain is a project to keep an eye on as it looks to grow.
Disclaimer: Please note that the contents of this article are not financial or investing advice. The information provided in this article is the author's opinion only and should not be considered as offering trading or investing recommendations. Please conduct your own due diligence before making any investment decisions.
References:
https://coinmarketcap.com/currencies/vechain/