By Aidan Kalish | Crescent City Capital Market Analyst Intern

Polygon is a highly ambitious cryptocurrency project that intends to resolve some of the major challenges that Ethereum faces today. While Ethereum is the most popular hub for decentralized finance (DeFi) development, it has been burdened by issues such as high transaction fees and network congestion. Polygon looks to solve these issues by making transactions processed through its network significantly cheaper and faster than those made on the Ethereum blockchain.
Formerly known as the Matic network, Polygon was founded in 2017; the project experienced significant success in the last year after going through a rebranding. Polygon's ecosystem currently boasts more than 7000 decentralized applications (dApps) including DeFi applications like Aave and decentralized exchanges such as UniSwap and SushiSwap.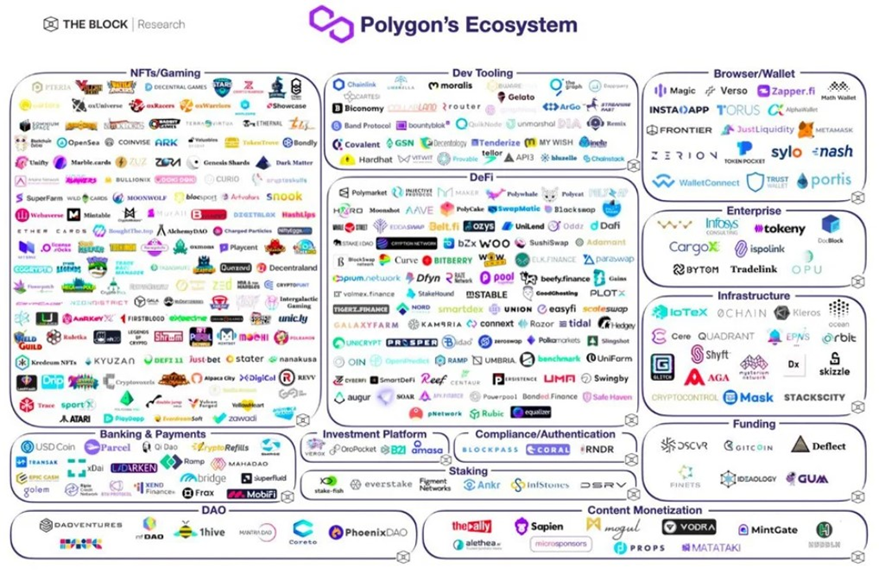 Polygon is a Layer 2 solution which means that Polygon processes transactions within the Ethereum network rather than being processing those solely on the Polygon blockchain. Polygon supports two major types of Ethereum-compatible chains, stand-alone chains, and secured chains. Stand-alone chains are blockchains that are directly compatible with Ethereum while secured chains are blockchains that use "security as a service" by utilizing a pool of professional validators. Both chains use a proof-of-stake (PoS) consensus which helps to speed up transactions and reduce fees. Polygon can be thought of as an add-on to Ethereum operating on top of the network, allowing users to utilize the speed of Polygon along with the functionality of the blockchain itself. This results in the Polygon network being able to achieve 7,200 transactions per second (TPS) which is 480 times the speed of the Ethereum blockchain's 15 TPS when used directly.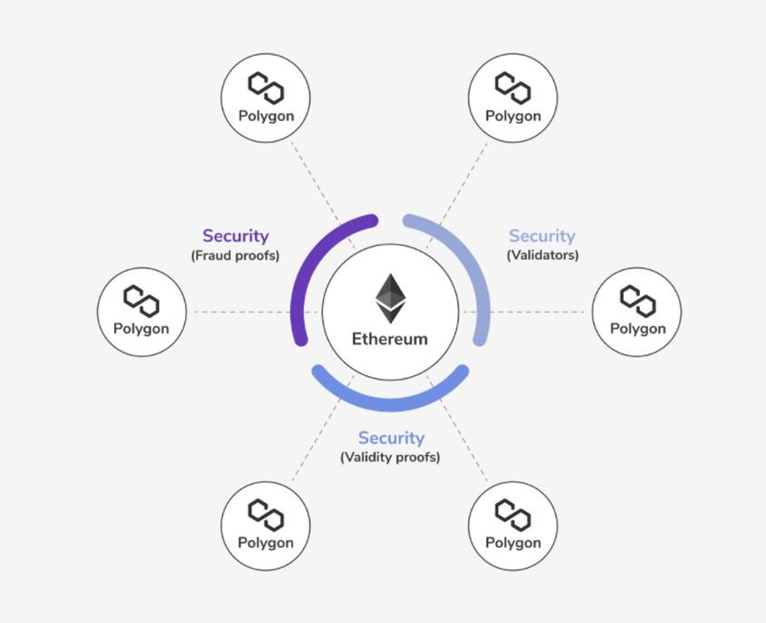 Polygon is powered by the MATIC token which is an ERC-20 token based on the Ethereum blockchain, allowing it to be stored in an Ethereum wallet. MATIC can be used to pay for services offered by the Polygon network but it can also be used for governance, staking, and the gas fees that occur. Transactions involving MATIC are only processed through the Polygon network which requires less computing power and in turn results in lower gas fees. These lower gas fees are appealing to dApps with a focus on Non-Fungible Tokens (NFTs) as a gas fee is necessary for an NFT to be minted. At the time of writing MATIC has a market cap of $10.3 billion and a fully diluted market cap of $13.5 billion. The token was one of the top gainers in the past year with a beginning price of $0.01 on January 1, 2021 surging to its high point at $2.92 on December 27. While at the time of writing the price of MATIC has fallen to $1.35 the token's growth over the past year is evidence of increasing interest in Polygon and for potential future growth as well.
There have been many recent developments involving Polygon. Coinbase, one of the world's biggest crypto exchange platforms has announced plans to integrate Polygon into their first scaling solution. DraftKings, a massive U.S.-based sports betting company has also recently announced the plan to launch an NFT marketplace on Polygon. Polygon's low gas fees have attracted OpenSea, the world's biggest NFT marketplace, which just recently integrated with Polygon. Polygon has enormous potential for consistent growth thanks to the numerous dApps and DeFi projects that are run on the Polygon network. Given the past growth of MATIC and the new ways Polygon is currently being utilized, the token may revisit its prior highs by the end of the year, despite its current fall in price. It is important to note that while the MATIC token may prove to be profitable relatively soon, its full profit potential may not be realized for years to come, thus making it a token to invest in now and hold on to for the long run.
Disclaimer: Please note that the contents of this article are not financial or investing advice. The information provided in this article is the author's opinion only and should not be considered as offering trading or investing recommendations. Please conduct your own due diligence before making any investment decisions.
References:
https://ih.advfn.com/crypto/Polygon-MATIC/chart
https://coinmarketcap.com/currencies/polygon/