Written By: Isha Goel | May 21 2021
All eyes were on Elon Musk this week as he influenced the cryptocurrency market with his substantial social media following. The CEO has sent numerous stocks soaring over the past year through a series of tweets and business announcements. This behavior has called into question the legality of his actions and while many have tried to take him down, the ultimate verdict appears to play in his favor.
His Attack on Bitcoin
On May 12th, Musk tweeted about how Tesla was terminating payments in the form of Bitcoin due to environmental concerns about fossil fuel usage. As a result, the coin's prices dropped by 17%, roiling bitcoin futures and crashing the cryptocurrency market as a whole. The end of the tweet suggested that Tesla may move toward accepting greener digital currencies in the future instead.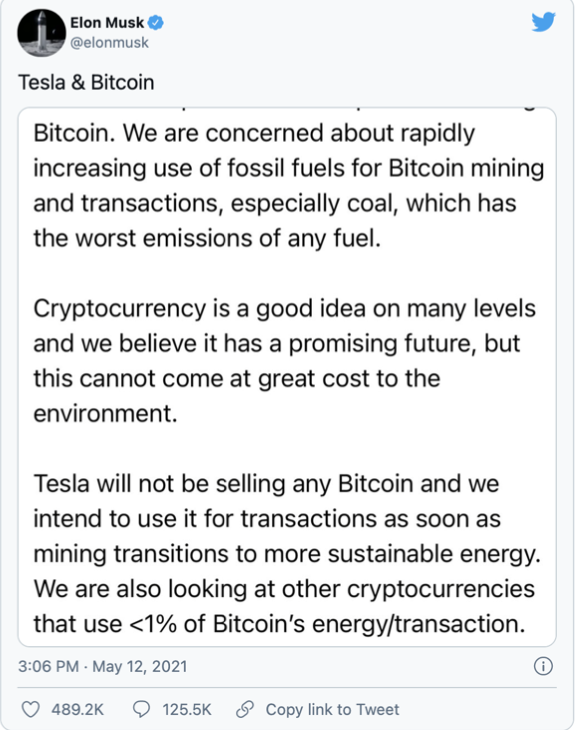 Work Cited: Reuters
While Musk seems to have significant power over the price movement, the cryptocurrency market is continuing to recover from this major drop. Crypto experts that work at Ark Investment Management remain bullish on digital tokens and Bitcoin over the long term. Due to the nature of the diminishing supply, the in-demand asset has the potential to continue garnering interest from investors and provide sizeable returns.
The 180 Flip on Dogecoin
After last week's SNL appearance, Musk caused Dogecoin prices to significantly drop when he called it a 'hustle.' This week he pulled quite the opposite stunt. Only hours after the crash, he announced that SpaceX would be accepting the joke coin as a form of payment, bumping up the prices. Then on May 13th, he bumped them up yet again when he posted a tweet about using their technology to improve Tesla's transaction efficiency.

Work Cited: Reuters
Regardless, his influences are likely not the only power in play with this coin. A spike in Dogecoin prices may also be linked to Coinbase's announcement that they would be adding this coin to their platform in as little as 6-8 weeks. With the potential to reach new trading volumes, the coin is inching its way back up to trading at higher prices again.
Legality At Play
All this talk about cryptocurrency on Twitter had consumer advocates questioning if Musk was breaking any rules. In the past, he had been accused of and charged with a $20 million settlement for securities fraud when he posted an inaccurate tweet about having secured funding to take Tesla private. The SEC ordered all of his company-related tweets to be approved by the firm before they could become public; this was the rule that these advocates were trying to attack.
His influence was evident in the public markets this week, but it appears that he did not break any rules after all. Musk's behavior is no different from top investors like Warren Buffet or Ray Dalio and his use of social media to play this game likely kept him out of trouble this time around. After a conversation with his lawyers, they say that 'Musk's Wednesday tweet on Tesla's bitcoin about-face was carefully crafted and, as such, did not appear to breach that settlement.' Social media might just be the next big trendsetter in the cryptocurrency market.
Work Cited
DeCambre, Mark. "Dogecoin Is Coming to Crypto Platform Coinbase in 2 Months, Says CEO." MarketWatch, MarketWatch, 13 May 2021, www.marketwatch.com/story/dogecoin-is-coming-to-crypto-platform-coinbase-in-2-months-says-ceo-116 20944181.
Katanga Johnson, Chris Prentice. "Analysis: How Murky Legal Rules Allow Tesla's Musk to Keep Moving Markets." Reuters, Thomson Reuters, 14 May 2021, www.reuters.com/business/legal/how-murky-legal-rules-allow-teslas-musk-keep-moving-markets-2021-0 5-14/.
Reynolds, Kevin. "Coinbase to Add Dogecoin in the Next 6-8 Weeks." CoinDesk, CoinDesk, 14 May 2021, www.coindesk.com/coinbase-to-add-dogecoin-in-the-next-6-8-weeks.
Staff, Ibd. "Stock Market Rally Struggles With Inflation Spike; Tesla Sales Fall, Elon Musk Turns On Bitcoin As Coinbase Reports." Investor's Business Daily, 14 May 2021, www.investors.com/news/stocks-market-rally-struggles-with-inflation-fears-tesla-sales-elon-musk-turns-o n-bitcoin-coinbase-reports/.
Unsted, Sam. Bloomberg.com, Bloomberg, 12 May 2021, www.bloomberg.com/news/newsletters/2021-05-13/stock-markets-today-inflation-jitters-elon-musk-bitco in-vaccines-fishing.