By Aidan Kalish | Crescent City Capital Market Analyst Intern
Chiliz is the blockchain powering Socios.com, a platform looking to elevate sports fan's experiences by allowing them to become directly involved in decisions affecting their favorite teams. While some sports leagues implement fan voting or have publicly owned teams, for the most part fans only transactional interactions with teams where a fan pays for licensed products or experiences to support their team. Through this system fans have no influence over their favorite teams meaning that unless someone created their own team, it is almost impossible for a fan to influence team decisions.
Chiliz and Socios are changing this dynamic by creating a system where fans can influence decisions affecting sports teams. This is done by first using CHZ, Chiliz's native ERC-20 token to purchase branded fan tokens from any organization partnered with the platform. Each fan token has its own value and can be treated as individual investments themselves.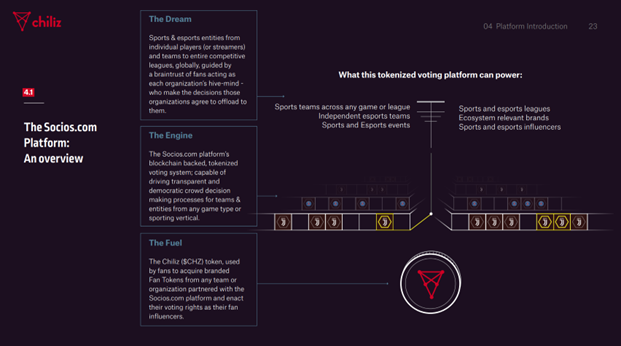 Once in possession of fan tokens, fans become part of the crowd-managed decision engine for the organization they choose to support. Organizations release polls on Socios.com for fans to vote on using their fan tokens. Each fan token counts as a vote, incentivizing fans to use multiple tokens when participating in a poll. Organizations have free reign to choose what the topic of a poll is. The more fully a team immerses itself in a Socios partnership, the more powerful that team's fan engagement proposition becomes. Past examples include: designs of jerseys, stadium components and team symbols, the type of music played during games and influencing line-ups in friendly matches.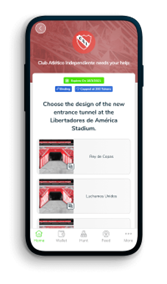 The benefits of this system being fueled by the Chiliz blockchain are:
Voting rights are transformed into a trading and re-trading experience
$CHZ and fan tokens allow voting rights to be securely deployed and executed via smart contracts on the platform
Team management is turned into an entertainment proposition in its own right
At the time of writing CHZ has a market cap of $1.266 billion and a fully diluted market cap of $1.875 billon, making it the 41st largest cryptocurrency. CHZ began 2022 at $0.311, had fallen in price along with the rest of the crypto market and is currently worth $0.211. In the last 90 days CHZ has had a return above 80%, the highest among top-cap cryptocurrencies. CHZ is currently only down 26% year-to-date compared to ETH and BTC losing 60% and 57% respectively.
Socios is currently not available in the U.S. but will likely become available in the near future. Chiliz is also working on evolving into its 2.0 version of its blockchain which will expand the utility of the blockchain and the CHZ token.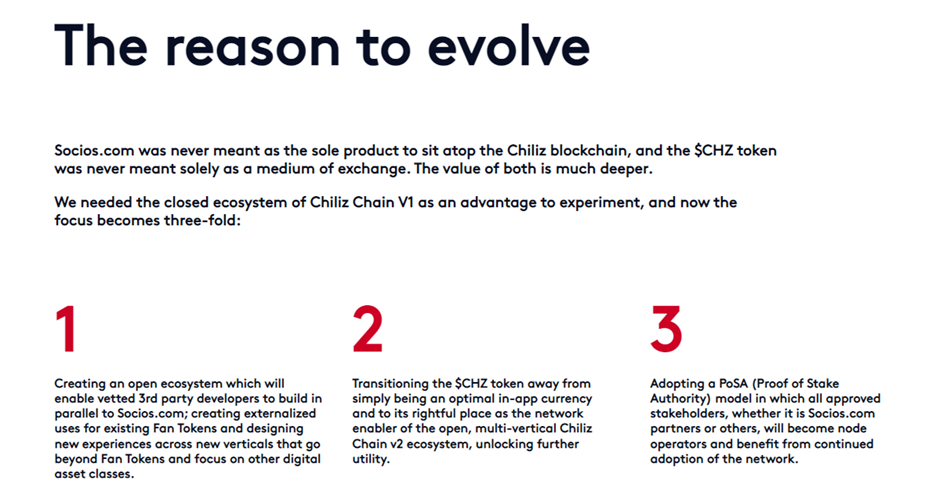 While there are competitors emerging into this niche market, Chiliz has established itself as a leader by partnering with multiple organizations across many sports including big names such as FC Barcelona, Paris Saint Germain, The LA Rams, and UFC.
With its large scale of partnerships, unique platform model, and concrete image of its future, Chiliz definitely shows a lot of potential for its future position in the sports market. It is recommended to invest in CHZ primarily if there is interest in becoming part of the influencing body for a particular organization. With more due diligence, long-term investment in CHZ may also be appealing. Regardless of how one would intend to use CHZ, Chiliz is a name to keep an eye on as it evolves and expands even more.
To view all sports organizations currently partnered with Socios click here. To view all current fan tokens, visit FanMarketCap.
Disclaimer: Please note that the contents of this article are not financial or investing advice. The information provided in this article is the author's opinion only and should not be considered as offering trading or investing recommendations. Please conduct your own due diligence before making any investment decisions.
References:
https://coinmarketcap.com/currencies/chiliz/
https://api-new.whitepaper.io/documents/pdf?id=HkkOi93MU