By Louis Lustenberger – Market Analyst Intern
Bitcoin & Unemployment Stimulus
Initial jobless claims rose to 898,000, the highest since August, and still above the pre-pandemic high of 695,000. Although continuing unemployment claims are down 1 million since late September, the Federal Cares Act, which provides an additional 13 weeks of stimulus payments for those who've depleted their state benefits, has seen an 800,000 growth in claims.
Bitcoin has seen its price rise dramatically this year as investors bet that trillions of dollars of government and central bank spending on stimulus packages would inevitably result in growing inflation. The U.S. dollar money supply has risen from 4 to 5.5 trillion since mid-year, and expected inflation has increased by .4% from 2.5% in January.
Trump said Thursday that he was prepared to increase his new 1.8 trillion dollar stimulus offer in hopes of passing the package before the presidential election. If the new stimulus package is passed, expect an influx of capital into the crypto markets and an increase in price for the benchmark crypto, Bitcoin.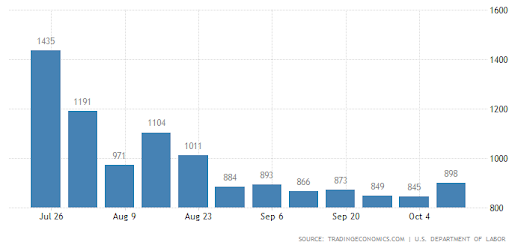 Sources
https://www.coindesk.com/crypto-converging-public-markets
https://cointelegraph.com/news/cointelegraph-consulting-new-stimulus-checks-may-push-bitcoin-price-above-11k
https://www.coindesk.com/trump-boost-stimulus-offer
https://tradingeconomics.com/united-states/jobless-claims
https://fred.stlouisfed.org/series/CCSA#:~:text=Continued%20claims%2C%20also%20referred%20to,for%20that%20week%20of%20unemployment.