By Jing Zhu | Crescent City Capital Market Analyst Intern
Technical Indicators Suggest Dip is Over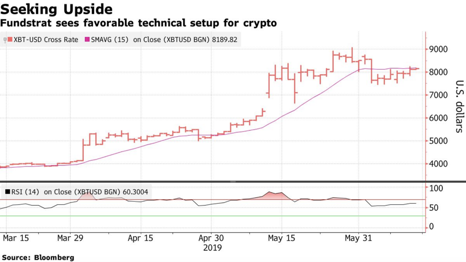 According to Bloomberg, the technical analysis from Fundstrat Global Advisors indicates that most cryptocurrencies are prepared for fresh gains. Relative strength index momentum is now turning upwards from neutral, which shows that there are strong trending markets. Rob Sluymer, a technical strategist for Fundstrat, states that "another upside attempt appears to be developing for most cryptocurrencies…We expect Bitcoin to stage another rally from current levels toward next resistance between $8,800-9000". Additionally, Litecoin has also shown impressive strength. Sluymer wrote that "it just rallied through resistance near 121 and is approaching next resistance at 145".
Ripple's Bullish Flag Subject to Breakout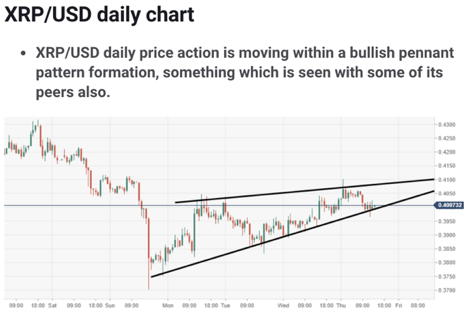 Ripple's price is trading marginally in the red, down about 60% in the second half. A bullish technical pattern (as indicated by the wedge-like structure in blue) shows that a breakout may soon occur. Heavy near-term supply ranges from $0.4 to $0.41, which currently caps upside potential.
Litecoin Price Spikes 357% in 2019 as Momentum Continues
See diagram below: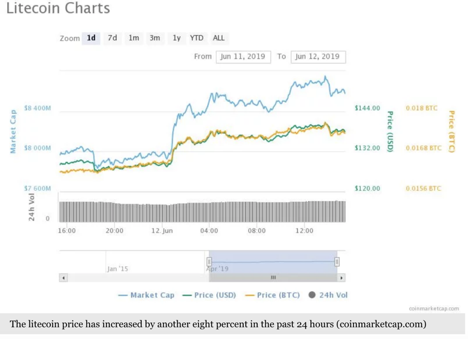 The increase in the value of Litecoin is driven by anticipation of its halving event in August of 2019. With its recent recovery, Litecoin has mitigated its loss to ATH to 61%, closely following Bitcoin's performance. Although traders have feared a correction following a period of relative stability, they remain optimistic about Litecoin's halving event.
Ethereum Recovers 6%
Ethereum's current price is $257, which is significantly higher than its 24-hour low of $240. This coin enjoys weekly highs closer to $285, which was the highest price set in May of 2019. It is reasonable to expect Ethereum's performance to continue to perform relatively well.
"Buy Crypto as Technicals Hint Dip is Over, Fundstrat Says" by Joanna Ossinger for Bloomberg published 6/12/19
"Ripple's XRP Technical Analysis: XRP/USD Bullish Flag Subject to Breakout" by Ken Chigbo for FXStreet published 6/13/19
"Litecoin Price Spikes 357% in 2019 and Momentum isn't Dead Yet" by Joseph Young for CNN published 6/12/19
"Ethereum Recovers 6%: Are Investors Compelled by Ubisoft Experimenting with Blockchain?" by Cole Peterson for News BTC published 6/12/19